The Mosquito Fire in Foresthill
The most recent California wildfire.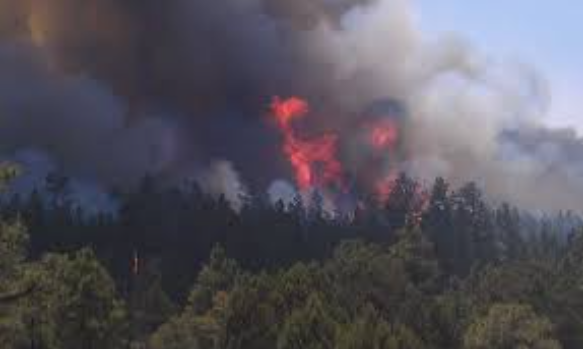 While many have been concerned about the raging heat and lack of water, a new threat has been laid out to the citizens of California with what is now currently known as the Mosquito Fire of Foresthill.
Starting Sept. 6, 2022, the Mosquito Fire began raging through the Foresthill area, burning the dead and dry vegetation native to the California Valley Area. By Sept. 20, the fire burned more than 76,000 acres and was only around 39% contained.
Due to an increase in rainfall from Wednesday Sept. 21, and the hard work of local firefighters, the fire is expected to decrease in growth and hopefully die down soon. 
While many understand the direness of this situation, it's hard to comprehend the severity of how large this fire actually is. 76,000 acres is equivalent to five Manhattans next to each other, or perhaps a better comparison would be 76,000 football fields.
Structural damage is still undergoing investigation, but many families in the area have been evacuated, and homes have been burnt down with very little left standing. Since rain and humidity increase has promoted fire shrinkage, the evacuation mandate has narrowed down to Zone 12, allowing some families to return.
While the two inches of rain have been a blessing to those fighting the fire, muddy conditions and river canyons caused by rain have made it increasingly difficult to access dirt areas along the fires edges. This means firefighters must go out of their way to find access to the eastern front of the fire while avoiding hazardous conditions in order to prevent its spread.
Written within the daily California Today section of the New York Times, "The storms have raised the risk of flash floods in the sheer, muddy hills damaged by fire. Weather officials have warned that people who live near the Mosquito burn scar should watch for flooding through the end of the day." 
While the cause of the fire is still unknown, California officials and Foresthill Citizens hope it'll be over soon. (More information in regards to the fire linked below)
https://www.fire.ca.gov/incidents/2022/9/6/mosquito-fire/
https://inciweb.nwcg.gov/incident/8398/