A Student's Journey
Olga Skuyeva is adjusting to her new life in America as she reflects on her life in Belarus.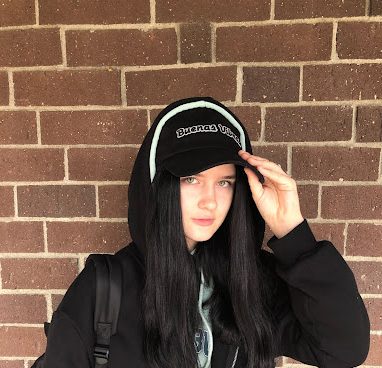 For many new students at Oakmont, they moved from a different city or state. Most are already familiar with the ways of the American school system and daily life here. However, junior Olga Skuyeva has just moved from over 5,500 miles away, and is still adapting to American life.
Skuyeva is a native of Belarus, a country that borders Russia to the west, and she moved to America in May of this year. She is from the city of Polotsk, a tourist destination in northern Belarus that is typically cloudy. 
"It was always gray and snowy and rainy and stuff. It's almost never sunny," Skuyeva said. "But what I loved about Polotsk is that there are a lot of tourist attractions."
Although Skuyeva enjoyed her life in Belarus, she thinks that the people could have been nicer. In America, she feels the freedom to think and be herself that her old life lacked.
"There is a lot of freedom here and everyone is not toxic like they used to be in Belarus, and everyone is open-minded," Skuyeva said. "People in Belarus, they all are conservative, [that's probably] a stereotype, but that's what I struggled with when I was there."
Skuyeva notices that there are many differences between the Belarusian school system and schooling in America. 
The typical American student goes through three different types of school: elementary, middle, and high school. However, there are no grade partitions in Belarus.
"In the school system, there is no high school," Skuyeva said. "There's no division like… high school, middle school, elementary school, there is only one school that you go [to for] 11 years, and you spend your 11 years there if you don't switch."
Even though Skuyeva has only been at Oakmont for a short time, she is beginning to like her classes and the people here. Her counselor has helped her adapt to her new environment and familiarize school for her.
"I like it because of the people I met, and the classes that I do are really fun, especially math," Skuyeva said. "My counselor is a really nice guy… he's helping, and he is supportive."
Skuyeva has had dreams of becoming a programmer from a young age, and plans to pursue it by going to an American college.
"I have been . . . programming since I was really little, so that's probably my future profession," Skuyeva said. "I'm going to college, I'm not sure about what college it will be, and I'm planning on becoming a programmer."
As Skuyeva learns to navigate her new life in America, she wants to explore and travel to sites that she hasn't yet seen. 
"I also plan on traveling in the USA," Skuyeva said. "We're buying tickets right now to San Francisco."