Seventh place state success
Junior Sean Myles snags seventh place at the CIF State Wrestling Championship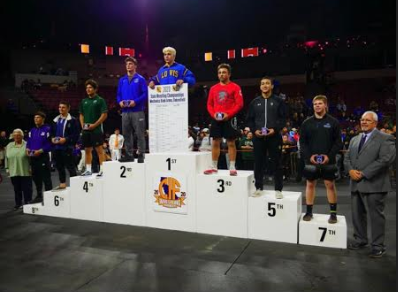 Junior Sean Myles placed seventh in the CIF State Wrestling Championships on February 27-29 at the Rabobank Arena in Bakersfield, CA. Myles along with fellow junior James Mintmier were the only two wrestlers from Oakmont to qualify for the state competition. 
"Going into the tournament I felt a lot of pressure in the sense that I had to do better than the previous year," Myles said.
Having been in the wrestling community for years, Myles felt the harsh pressure of his competitors and himself to place at the tournament. 
 "I started wrestling when I was 5 so it's just something I've grown up doing and love," Myles said 
The Oakmont Wrestling team has been putting in work at their practices since November, all the way until the beginning of March as those who qualified worked towards section masters and eventually, state finals.
"Throughout the whole year you prepare for the end which is the state tournament," Myles said. "The week leading up to it, you kinda just make sure you're ready and make small adjustments that will help win those big matches."
Myles has been on the varsity wrestling team since his freshman year and has only been improving since then. With senior year dawning, he only has bigger aspirations for his last high school season. 
"My goals for this next season is to win a state title," Myles said.