"Slime Rancher 2" review
A review on the newly-released game "Slime Rancher 2."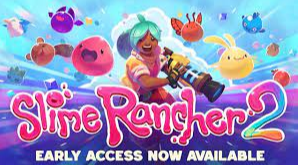 "Slime Rancher 2" is the sequel to the highly-rated game "Slime Rancher," made by Monomi Park. After six years, Monomi Park came out with the early access sequel on Sept. 22.
"I was so happy to hear the release of the game that I got up from the couch and said 'I love you' to the TV," Chris Cottrel, freshman and player of "Slime Rancher 2," said.
"Slime Rancher 2" is a first-person adventure title with an open world, running on Unity engine. It is full of beautiful  colors with many hidden passages and intricate paths that can have you exploring for hours. 
"In my opinion, this game is fun and a great game," Cottrell said. "I played 14 hours on the first two days because it is really addicting." 
The world is filled with a large variety of different slimes that you can collect to build your ranch.
In "Slime Rancher," you collect adorable slimes to fill your expanding ranch, and feed them many different fruits, vegetables, meat, and even nectar. 
"I like the new physics of the slimes and the new batty slime," Cottrel said. 
Selling the excretions of the slimes you can make money and buy new plots, and even upgrade your gear.
You can explore many different regions of the map and discover larger slimes called Gordos. These slimes are usually covering a hidden door or passage, and by feeding them until they explode, you can explore these passageways and uncover secrets about the slimes and planet that they inhabit.
"Even though this game is in early access, the map is still really good," Cottrel said. "It's a bit smaller than the previous game's map, and it doesn't take away from the game." 
The previous game was a bit different from its sequel, with both content and the map varying from the previous game.
"Slime Rancher 2" is a game that has recently come out and gained the attention of many fans of the series. It has also immediately gained a high rating on Steam and other platforms alike. "'Slime Rancher 2' being a new game and in early access means that it will only get more updates and improve as a game as its developers work on the game making it even greater," Cottrel said.