NLE Choppa's "Dark to Light" Album is Surprisingly Different
"Dark to Light" is all about positivity and changing your outlook on life
NLE Choppa's newest album "From Dark to Light" was released on his birthday, November 1. This album is a lot  different from his past releases because insead of talking about negative topics such as violence and murder, he talks about positive energy and thoughts.
"Bryson," the first song on the album is all about his change. I think the chorus is too repetitive, but that is the whole point of the song. The verses have a good meaning but they don't have the best flow to go with the beat.
"Twin Flame" is the song about his girlfriend Yung Blasian. The lyrics are about how she supports him and they can't be separated. This song is very useful to put you in a good mood. The verse is surprisingly catchy and has good flow.
"Body Catchers" and "100 Grapes" go back to the old ways of his music when he talks about violent topics. "Body Catchers" has some elements of positivity saying he has to do these things just to stay afloat and have enough money to survive. "100 Grapes" was NLE Choppa's XXL freestyle with a beat. That song had a very good flow and energy.
"Done" is my favorite positive song on the album and has a similar beat to "Bryson." The song has decent flow and talks about how he is done with his past things and is starting to become more positive.
"Moonlight" featuring Big Sean is arguably the most popular song from the album due to the fast pace rapping from Big Sean and the slow verses from NLE Choppa. This song has a very good chorus and transitions smoothly into Big Sean's fast paced verse.
"Paradise" starts with a slow beat and medium speed and transitions into the same beat and fast paced rapping. This song is very smooth and listeners are able to vibe to it very well.
Overall, NLE Choppa's album is different from what his fans have been listening to for the past year. The beats and rapping have a lot less energy and are more for vibing or putting yourself into a good mood.  Though it is different, a true fan will follow and support his music and journey.
About the Writer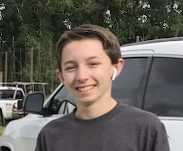 Trent Thompson, Staff Writer
Trent Thompson is a sophomore and is working his first year on the Norse notes staff. Outside of journalism, Trent is on the Oakmont varsity golf team....