Taylor Swift shines while telling "folklore"
An honest review of Taylor Swift's newest album, "folklore."
The best thing about mystery is how much it provokes curiosity because we naturally want to learn more about things we do not know much about. Taylor Swift's album "folklore" is drenched in mystery and intrigue. 
Swift announced the release of folklore on July 23, 2020. "folklore" was released the same day at midnight without any promotion, except for her previous announcement. 
It was everything I did not expect. Taylor Swift's surprise album drop? Is this real life? 
Information about her production period was kept private for months, a contrast from Swift's relative openness about her process before the release of her previous album "Lover." 
"folklore" was released under the alternative genre and unsurprisingly, that is the most surprising part about the album. It is an abrupt ripping away from the mainstream, edgy "reputation" from 2017 and the bubblegum pop of "Lover," released less than a year before "folklore." 
The change in genre was as jarring as the eccentricity of her lyrics. The jaunty, quirky storylines in certain songs may be a bit much to average listeners or Taylor Swift country/pop puritans who would rather not endure another genre change. 
Stealing dogs and dyeing them key lime green on "the last great american dynasty." Packing dolls and sweaters, moving to India forever on "seven." Name dropping poets on "the lakes."
It runs the risk of sounding like it is trying too hard to be alternative, depending on the listener. 
Her intricate storylines are no mystery to her fans, nor casual listeners—and this presents a problem. With the inclusion of the songs "cardigan," "august," and "betty," Swift paints a picture of a high school love triangle.
She falls into a habit, utilizing a teenage cast of characters that have appeared several times in her past; "You Belong With Me" on "Fearless," "Starlight" on "Red," "Miss Americana & the Heartbreak Prince" on "Lover," you get the point. 
One can assume it is her favorite trope, and that is okay. High school stories are extremely versatile and consumable, considering the youth of many of her listeners. 
However, with these songs, she risks sounding juvenile, especially to long-time fans, many of which are entering or in the midst of adulthood. 
Swift's duality is ultimately what saves her. She has always toed the line between fiction and reality, youthfulness and adult wisdom, serving herself and serving her fans—she executes the mix between these contrasts masterfully.
The playfulness of songs like "august" and "invisible string" are even more enhanced by Swift's scene setting and reminiscence of a dreamy landscape of young love. "my tears ricochet" and "exile" are sorrowful, haunting reminders of relationships gone awry.
"betty," a story of a teenager begging for forgiveness from his girlfriend after cheating on her, set on a backdrop of harmonica, acoustic guitar, and sweet-talking lyrics of hopeful reconciliation; "illicit affairs," a ballad that talks of the highs and extreme lows of two-timing with someone, punctuated by Swift's strong voice proclaiming, "For you, I would ruin myself / A million little times," to her (former) partner. 
These contrasts are exactly what make "folklore"…"folklore." They define Swift's ability to write a story. They are what makes "folklore" so memorable—a story of devotion, infidelity, pain, and pleasure. 
It is a reminder of what once was, especially impactful in a world entirely changed by the COVID-19 pandemic; this remembrance of a time before relates to us all, not just Swift and her life that is decidedly very different from ours. 
Listening to "folklore" is like being transported to another world—Swift's very own. 
She has painted a scene for her listener that is so vivid and complex through lines as simple as "But I knew you'd linger like a tattoo kiss / I knew you'd haunt all of my what-ifs," from "cardigan" and "But I'm a fire and I'll keep your brittle heart warm," from "peace."
It is an album with lore that is shrouded in secrecy, yet the nature of her writing is so personal. So intricate, and yet, so straightforward. That is what is so intriguing about it. 
While a series of elaborate storylines all tangled up between real and imagined, it manages to hit the rawest emotions, feelings, and experiences we have all felt or will feel in our lives. 
The mystery still lingers around who and what exactly these stories revolve around, but one thing reigns true: "folklore" is Taylor Swift at her peak.
Leave a Comment
About the Contributor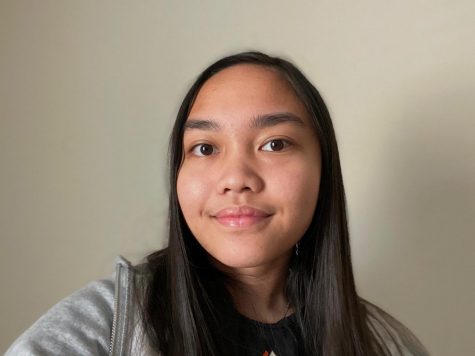 Catherine Mendoza, Editor in Chief, Head of Design
Cath Mendoza is a senior and second year staff member for Norse Notes. Outside of journalism, Catherine is a passionate creative writer. Most of her free...