"Concrete Rose"
A new book from Angie Thomas, bestselling author of "The Hate U Give"
In January of 2021, author Angie Thomas released a new book titled "Concrete Rose," a prequel further exploring one of the most likeable characters in her New York Times bestseller "The Hate U Give."
"Concrete Rose," a title once again inspired by renowned rapper Tupac, follows Maverick Carter as he attempts to navigate high school in a poor black neighborhood when his life is flipped upside down by an inescapable gang affiliation, relationships struggles, and sudden unplanned fatherhood. 
Thomas' first book, "The Hate U Give," follows Maverick's daughter, Starr Carter, as she finds herself in a tragic and stressful situation, as well as her fight against racial inequity and her journey to create justice at the young age of 16. Through all of her books, Thomas manages to broach heavy topics through the eyes of young adults and provides perspective-altering insight into the less-considered aspects of life.
While "Concrete Rose" discusses some heavy topics, and shows them in an obviously unflattering way, it is approached in an easily understandable manner, allowing younger readers to form their own conclusions and opinions, as well as enlightening them about many issues in today's world. Some violence, mild language, and mature content raises the age rating, but none of what is actually portrayed is too graphic, the most inappropriate parts probably occurring through the thoughts and internal struggles of the main character. 
I was excited to read "Concrete Rose" when it came out, as I had recently finished both of Thomas' other books, though I was a bit worried that I wouldn't be able to fully appreciate it between the other books I wanted to read and the stressors of everyday life. It fascinated me from the first page though, and I found myself longing to read the whole thing in one sitting. Even after having already read "The Hate U Give," I did not in any way feel that the story was spoiled for me, and still managed to be shocked and impressed at some of the ways it was approached. The writing style and language used is a bit unconventional for more well-known books, so it tended to take a couple of pages to get into the right mindset, but it was in no way hard to understand. It provided me with an interesting perspective, and an abundance of things to think about and act upon, the perfect balance between fiction and shattering authenticity. 
Overall, "Concrete Rose" is well-written, as well as thoroughly educational and thought-provoking for anyone who cares to pick it up. It is well worth the read, and a remarkable way to bring yourself back down to earth and leave you in awe of all the best parts of life.
About the Writer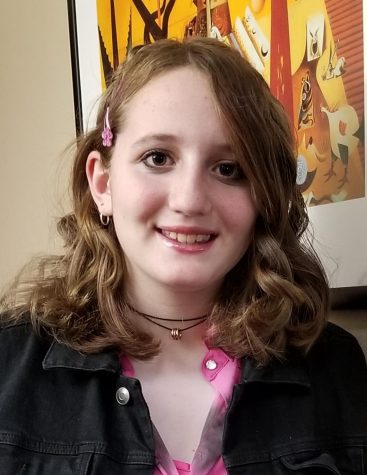 Nova Roden, Staff Writer



Nova is currently a freshman at Oakmont High School. This is her first semester in Journalism. She loves reading and is currently working her way...