Kaitlyn's School of Thought: The double standards for dress codes
Students are treated differently depending on what their body looks like
The first time I was dress coded was during lunch in fourth grade. My male principal believed that I showed off too much skin while I wore a Hello Kitty tank top in the sweltering California heat at the end of summer. I was nine years old, and was already self conscious about my body because I was an early bloomer. Luckily, I had a friend who allowed me to wear the jacket she brought for the cool early morning, so I did not have to go up to the office. All throughout recess, sweat dripped down my face and the rest of my body more than usual because of the heavy fabric that I had to wear in order to not get in trouble.
I wasn't as lucky when it occurred again in fifth grade. During physical education, I was sent up to the office once again because I wore shorts and a tank top during the hot days of summer. I was discriminated against and told to cover up my natural body with features that most of my friends didn't receive until middle school. In tears, I was forced to call my father to bring me a change of clothes that would cover my body more than my peers. I lost valuable class time, was humiliated by my teachers who did this in front of the entirety of my class. 
My mother, my feminist champion, went to my school and stood up for me, telling them that I was treated differently than my peers solely because my body was more developed than the average fifth grader. After my mother asked my teacher why I was dress coded, she was told that it was because another student's father thought I was "too provocative." Instead of telling that father that he should not be looking at a child as an object, my school told me that I was the problem, that I did something wrong.
Young girls should not be sexualized because their bodies are developing no matter what age puberty starts. Adults should never look at children sexually because it is pedophilia. Perhaps instead of telling girls to change themselves in order to make grown men feel comfortable, schools should recognize that sexual harassment of a child is unacceptable.
Because of the continued dress codings that occurred throughout my school years, my confidence and mental health diminished. I covered up my body in pants and a hoodie everyday because I couldn't stand how my body looked. Instead of teachers and administrators bringing me down, I brought myself down. I didn't need any adults to help me feel worse about myself.
If I had been less developed in certain areas of my body, I likely would not have been dress coded because I would have been average and "less distracting." I was aware that I looked different than other girls my age because I was stared at by my teachers, other students, and even the people I passed by in a grocery store. I wore the same clothes as many of my classmates, but because I had a mature body, I was told that I was a problem. Although it was never explicitly said like that, that is always how it felt.
These experiences are common for girls nationwide. From yoga pants being too tight to shorts that must go longer than the fingertips to tank tops needing to have a two finger width on the straps, dress codes discriminate against and damage girls for years, causing many to feel that their body is supposed to be covered to ensure they do not upset other students, particularly males, teachers, or other students' fathers. Because of the young age that this starts at, it becomes ingrained in minds that discrimination against female students is acceptable.
If you look at a dress code for a public school in the United States, you will likely notice that the majority of dress code guidelines are directed towards female students. Additionally, of the students that get dress coded, the majority are female. By implementing harsh dress code guidelines for students to follow, students are forced to leave their classrooms more often to change the clothes that they are wearing, causing students to lose precious class time.
Not only are these guidelines damaging for female students, they are detrimental to male students. Boys are taught that the girls around them should change to make them feel comfortable, that their education is more important than their female counterparts. Dress coding girls for showing off their shoulders or too much of their legs teaches boys that a female body is just a distraction for them, an object designed for their pleasure. 
In the real world, a woman is not going to change the way that she dresses just to make others feel comfortable. If a man sees a woman's shoulders or the tight clothing that she wears, he cannot ask her to change her clothing to fit his needs more. Why are we discriminating against young girls and young women for showing their shoulders or their legs then?
Schools across the nation need to reevaluate their dress codes and realize what is important: making all students feel comfortable by allowing female students to continue their regular education instead of spending time in the administration offices trying to change their clothes to make others feel comfortable. 
Empower young girls by not teaching them that their bodies are sexual because what happens during childhood can affect their minds forever. Body shaming young girls can impact their mental health by causing them to believe that they are worthless and less than their male classmates.
About the Writer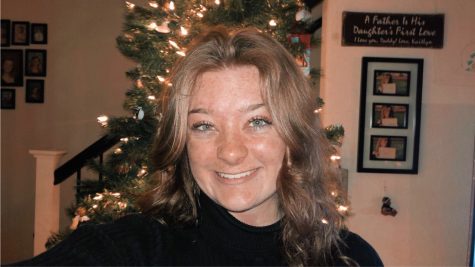 Kaitlyn Edwards, Editor-in-Chief
Kaitlyn Edwards is a junior and in her third year of working on the Norse Notes staff. During her sophomore year, she was the sports editor. Outside of...