The Fight for the Future
Teenage activist Sophia Leddy takes a stand for the future of her generation
Anne Frank once said, "How wonderful it is that nobody need wait a single moment before starting to improve the world." The message is just as pertinent today. As the myriad of problems in our world increase, so does the activism to fight against these problems–starting in the youth community.
One manifestation of activism in the youth community is sophomore Sophia Leddy who has instituted her own club on campus called Future Voters Club, dedicated to political and environmental discussion and activism.
"[My club] is a bipartisan politics and discussion group," Leddy said. "We meet every other week and talk about issues that everybody finds important, and are hoping to hold some events to help the student body get involved in activism as well, like voter registration drives and going to marches."
After the presidential election in 2016, Leddy became more politically and socially conscious when she started observing some events she felt were injust.
"
"After our current president was elected I realized that some of the freedoms that I had started taking for granted were in danger. We should not have to worry about being shot in school, or losing our right to marry who we choose, or being catcalled or assaulted, so I wanted to do something about it." "
— Leddy
In addition to the events that prompted her activism, Leddy's mom was a big inspiration to her. 
"I don't think I would have become an activist if not for my family…my mom was particularly angry after the 2016 election, [which was] the year she took me to my first women's march," Leddy said. "We've been to two others since then and tons of other rallies, events, and we even went lobbying in Sacramento for gun safety once."
Subsequent to becoming more involved in political activism, Leddy founded her club as a way to prepare and vocalize our future voters.
"
"I realized how common it is for people in high school and of voting age to not know what they're talking about in terms of politics, and being ignorant really deprives the world of the unique, diverse perspective that our generation has. I wanted the student body to become more informed and ready when they have the chance to vote.""
— Leddy
Assuming the role of President of Future Voters Club has in and of itself been a rewarding experience for Leddy, diversifying her views and those of others who participate.
"I really enjoy hearing other people's points of view," Leddy said. "I always find it so interesting how someone's situation contributes to what they think, and I am always so excited when someone comes into club uninformed and leaves with an informed opinion."
Despite the improvement on the community Leddy aspires to undertake, disagreement from contentious opposers is inevitable.
"I've been called a socialist for some of my views, been politely ignored by representatives, dealt with some comments about feminism, and of course at almost every rally there are counter-protesters," Leddy said. 
Feminism in particular is a controversial facet of Leddy's activism that she is passionate about.
"Feminism is a movement towards gender equality, which I support, but [the movement] being called feminism makes it [confused with] wanting women to be greater than men, but that's not it at all," Leddy said. "It is called [feminism] because it is mostly women who suffer from gender inequality, but in reality all genders suffer when they are not equal."
Becoming engaged in activism has momentously benefited Leddy, allowing her to broaden her conception of politics and of herself.
"I am really grateful for [activism]," Leddy said." I genuinely enjoy activism, and I think that having it in my life since I was twelve has just made my views and ability to stand up for my views even stronger."
Aside from politics, being an activist has facilitated numerous other aspects of Leddy's life.
"[Activism] has made me more confident, and getting involved in activism gives you a community of support that makes everything a lot easier," Leddy said. "I can deal with people who disagree with me better, and I get less personally offended when someone has different beliefs."
"It has made me a more well-rounded and sympathetic person, too, because I meet people I normally wouldn't talk to," Leddy said.
The young activist has great ambitions for the future of her club and of her activism.
"I would love it if we were able to help people formulate opinions about important issues, help organize political events, and inform the student body," Leddy said. "[But in the future], I think I will always be an activist because inequality won't be something that totally goes away, and it will be dedicated effort from real people that will make the progress we need."
In retrospect, Leddy feels very fondly about being immersed in activism since such a young age, believing that younger generations have a fresher perspective that makes them so valuable.
"Developing views at a young age allows you to come to the conclusion that's right for you, and since young people have such a unique view on issues that older generations seem to turn a blind eye to, we have the power to end the school shooting epidemic, and inspire lawmakers to take a stand against climate change," Leddy said. "Plus, all of our representatives in government start as people who care about their community."
About the Contributor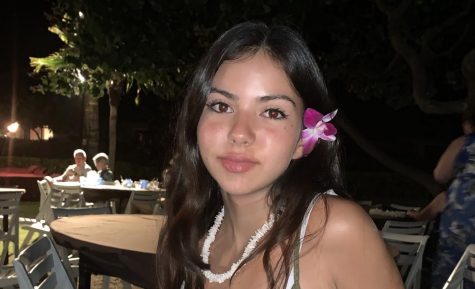 Valentina Moreno, Editor in Chief
Valentina Moreno is a senior at Oakmont and is in her third semester of working on Norse Notes. She loves to play tennis, paint, read, and play the piano....