The built-in buddies
How triplets are life-long best friends
Seniors Taylar, Mackenzie, and Tanner Schafer are one of the few triplets at Oakmont. Growing up, they have had to sacrifice the little things such as having a one-person birthday party, but agree that they would not give up the lasting friendship they have developed.
"We've always had the same birthday party so we always had a lot of people," Taylar Schafer said.
Tanner Schafer also commented on the perks of having a combined birthday.
"It's fun because we get an excuse to invite more people," Tanner Schafer said.
Mackenzie finds it funny when it becomes chaotic due to the amount of family and friends that are invited to the conjoined parties.
"It's always hilarious when everyone sings happy birthday.  It sounds like gibberish when they get to saying our names," Mackenzie Schafer said.
However, they do admit that there are a couple of negatives to being triplets.
"You see them all the time. So if you have beef at home, then you have beef at school," Taylar Schafer said.
Mackenzie believes that although there are unwanted comparisons when being a triplet, it's only pushed them in a better direction.
"A downside I guess would be that we get compared a lot, but it does make us more competitive with each other, so I can't really complain," Mackenzie Schafer said.
Besides some inconveniences when being a triplet, they will always have someone by their side.
"You always have someone to hang out with so you're never a lone ranger," Taylar Schafer said.
They also benefit from being in the same grade and often times taking the same classes.
"I like the fact that we can help each other with certain classes when we have the same ones," Mackenzie Schafer said.
Tanner acknowledges that he is not sure if he enjoys being a triplet or not because he has never experienced being an only child.
"It's an interesting dynamic, and, plus, I don't know any different," Tanner Schafer said.
Being a triplet creates a bond like no other. By growing up with someone from the very beginning of life, developing a strong friendship is bound to happen.
"It's nice to know that I have them to walk through life with," Mackenzie Schafer said. "It's taught me how important relationships in life are."
About the Contributor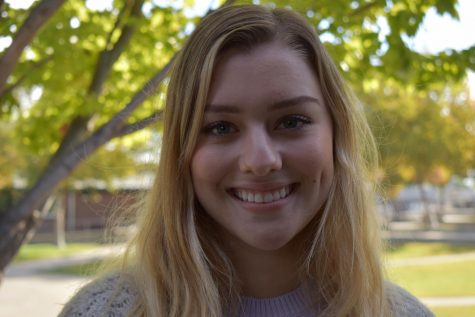 Sophia Socolova, Arts & Entertainment Editor
Sophia Socolova is a senior second year staff writer and is the editor for Arts & Entertainment.  In her free time she enjoys doing mini photo shoots...