Q&A with Senior Sydney Shotts
Senior Sydney Shotts goes one-on-one to talk about her future as a psychiatrist.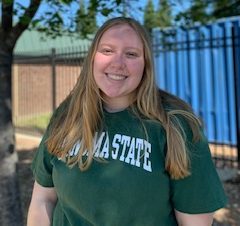 Hang on for a minute...we're trying to find some more stories you might like.
What are you passionate about?
Sydney Shotts: I am very passionate about college.
Why are you passionate about it?
SS: College is going to open up my choices for the future.
Do you know what college you're going to be attending?
SS: I will be attending the The University of Oregon.
Do you know what you want to study?
SS: Yes, I want to study psychology.
What kind of job do you want?
SS: I want to be a psychiatrist.
What are your plans after college?
SS: I want to get my medical degree after my undergrad, do my residency in a hospital for four years, obtain my licence, and then become board certified.