"Evil Dead Rise"
An overview of the new 2023 horror/fantasy film. Spoilers ahead!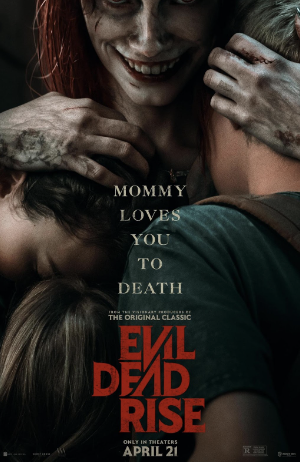 A 2023 American supernatural horror film, "Evil Dead Rise," written and directed by Lee Cronin, has quickly gained its popularity since released recently on April 21. 
The film is about the rising of flesh-possessing demons that interrupt the reunion of two separated sisters, sending them into a brutal struggle for survival. 
Angel Camacho Magana, a senior, decided to watch the movie in theaters with his friends to see what the hype was about. 
"I saw a clip of the movie on TikTok and it was really disturbing, so I wanted to watch it with my friends," Camacho said. 
Camacho would then go into detail about his enjoyment of the movie. 
"I would give it an 8, because overall, the story was pretty good and there were a bunch of jump scares and the ending was pretty good since it connected the dots to the beginning of the movie," Camacho said.
Camacho moves on by explaining his favorite part of the movie, which consisted of many gory aspects. 
"My favorite part of the movie was the cheese grater part because it was nasty,"Camacho said. "I don't think I could compare it to a horror movie; it's one of a kind."
Camacho watched the movie with his friend, Cilencia Alvarez-Vega, who is also a senior. When people watch a movie with others, it gives them the chance to discuss the movie after and have fun together. 
After watching the movie, Alvarez-Vega was too stunned to speak. 
"I was holding on to the seats of the theater and I had to close my eyes when it got disturbing," ALvarez-Vega said. 
Alvarez-Vega's favorite part of the movie matched that of Camacho. 
"My favorite part of the movie was when the monster attacked the lady with the cheese grater," Alvarez-Vega said. "It made me gasp so loud."
"Evil Dead Rise" is truly a one-of-a-kind and definitely disturbing movie that Camacho and Alvarez-Vega both enjoyed watching.