From murderer to Macbeth
A brief recap on the events leading up to the fourth and final season of "Barry" [SPOILERS AHEAD].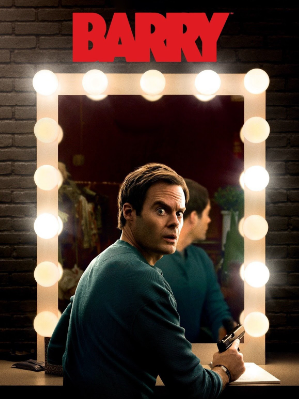 "Barry" premiered on HBO in March of 2018, and instantly intrigued viewers. The synopsis for the show reads "A hit man from the Midwest moves to Los Angeles and gets caught up in the city's theater arts scene," according to IMDb. 
Many were fascinated not only by the story, but also by Bill Hader's starring role. Hader is a household name in regards to his comedy performances. His nerdy and awkward stature in roles like "Hot Rod" and "Superbad" don't really paint him as an assassin. This left people wondering if he would be able to pull off of such a dramatic character.
Hader – along with co-creator Alec Berg – take turns directing, writing, and producing this outlandish and extraordinary series. They have created a complex dramedy of a hitman trying to feel human again, which spirals into events bigger than himself. 
When writing the series, both Hader and Berg wanted Barry's job to be treated as a usual "nine to five," and believed it was an interesting concept.
On an episode of the OnWriting podcast, Berg and Hader recount the steps taken in writing the show. 
"We were treating the job of hitman like the job of… like traveling salesmen," Berg said. "We talked about kind of playing the reality of it, not the glamor and glitz of it in just slow motion and coolness. It's actually a crappy job."
There have been plenty of hitmen movies, most of which follow a similar template. The creators didn't want "Barry" falling into that same category. They both began developing aspects of the series that would give the story and character an original feel.
"He's bored so he takes an acting class," Hader said. "So, it became pretty clear pretty quickly that it was going to be this thing of a guy who's in one world who's trying to move to this other world but that will destroy the first world." Berg said.
Season 1
Barry Berkman is an ex-marine, now making a living as a hitman. His father's friend, Fuches, convinces him to take up the job after returning home from Afghanistan, and plays a manager role for him. Barry is tired of his repetitive job, and yearns for a new purpose in life. 
They are uprooted from their small town when the leader of the Chechen mob has a hit for Barry in Los Angeles. This leads Barry to his first acting class, led by famed actor Gene Cousineau. Barry becomes infatuated with the idea of becoming someone new, and believes acting could be his new purpose. 
Fuches isn't supportive of this class, and pressures him into dropping it. Barry ignores him though, and continues doing both. After killing his target, footage is captured of him committing the crime. The footage is too dark to incriminate Barry, but gives the police a vague outline of their perpetrator. 
Throughout the show, Barry develops a relationship with his acting partner Sally, alongside Mr. Cousenea and lead detective of Barry's case, Janice Moss. By the end of the series, Barry is happy, cutting ties with the mob and Fuches, and planning to star in a play with Sally. 
Barry is invited to Mr. Cousenea's lake house, along with Janice and Sally, to celebrate all of their recent achievements. Later that night, after spending time with Barry, Janice realizes that he is the man on video, and attempts to arrest him. Barry is forced to kill Janice, and frames her murder as a disappearance.
Season 2
From this point on, there is a lot going on – so keep in mind this is a very brief re-telling. 
Barry is living care-free with Janice gone, and is excited to begin his new life. The season starts out hopeful for Barry's future, but slowly starts to crumble. 
The new leader of the Chechens convinces Barry to help them out one last time. When Barry finishes this final favor, he will be able to dissociate himself from the mob, leaving his past behind him. Alongside these events, Fuches is bitter over Barry's betrayal. 
With the disappearance of Janice, Fuches knows how Barry works, and tracks down her body. After retracing Barry's steps, he then disguises himself as a private investigator, and meets with Mr. Cousineau to reveal what Barry has done. He intended for this to scare Barry back into working with him, but it blew up in his face. Barry is furious at Fuches, and is so engulfed in his rage he tracks him down, killing the majority of the Chechens to get to him. Fuches barely escapes, leaving Barry and his now shattered life behind. 
Season 3
Six months later, Barry is depressed, and has returned to being a hitman. He's lost the likeness about him, and feels like a stranger. He isn't that quiet, average looking guy anymore; he's scruffy and visibly exhausted. 
Fuches has been hiding in Russia, but has now decided to return to LA to further ruin Barry's life. He begins finding old victims of Barry, and gives them all of his personal information, including his phone number, address, and a picture of him, which most of the victims use to try and kill him. Mr. Cousenea is still processing what his student has done, and is terrified that Barry is going to hurt him next. Barry has viewed Mr. Cousineau as a father figure throughout the series, and is deeply hurt by his sudden coldness towards him. 
This season really boils down to Barry's life rapidly declining into his worst nightmare. He's losing his grip on the sanity he has left, and just wants a friend. Mr. Cousineau can see this, and takes advantage of it. He falsely turns to Barry for help, trapping him with the police and sending him to prison.
Hopes for season 4 (No spoilers)
With the finale of season three landing Barry in handcuffs, there is no telling how his story is going to end. This season was written during the pandemic, and even caused an entire rewrite for season three. It's likely going to be the most thought-out and praised season, all directed by Hader.
In my opinion, there's definitely a major character death incoming. Whether it's Fuches sacrificing himself for Barry, Sally or Mr. Cuseanau getting stuck in the crossfire, or even Barry when karma catches up to him. There are so many possibilities. I do think Fuches and Barry are going to rekindle their relationship, because at the end of the day they only have each other. They've both been together throughout this entire series, for better or worse, and they'll always be drawn to one another. 
I highly encourage you to watch the show for yourself to fully experience the story, and catch all of the details skipped over in these summaries. New episodes premiere Sunday on both HBO Max and the HBO channel. This is a final season – you don't want to miss it.