U.S. Army helicopter crash
Three servicemen dead after helicopter crash in Alaska.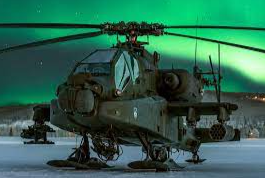 On April 28, two helicopters were heading to fort Wainwright from a mission at Donnelly training area, when they collided at 1:39 p.m., killing three servicemen and leaving a fourth critically wounded.
An army spokesperson said that there were no weather or visibility problems at the time that could have caused this.
Chief Warrant Officer 3 Christopher Robert Eramro (39), Chief Warrant Officer 2 Kyle D McKenna (28), and Warrant Officer 1 Stewart Duane Wayment (32) were the three soldiers killed in the crash.
"The battalion is devastated and mourning the loss of three of our best," Lt Col. Mathew C. Carlson, the 1-25th AB commander, said.
The U.S. Army announced the following day that it had grounded aviation units for training due to the substantial rise in helicopter crashes and incidents.
Two Black Hawk helicopters crashed during a routine night time exercise in Kentucky last month, killing nine soldiers, and in February, a Tennessee National Guard crashed in Alabama, killing two. As well as this, in February, two soldiers were injured when an Apache helicopter rolled during takeoff from Talkeetna, Alaska.