The Oakmont Softball Team
A review of their season.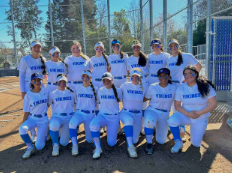 We are more than halfway through Oakmont's softball season, and they have had a great start to the season with their overall record being 13-6. 
Currently, they are tied for second place in the Foothill Valley League, with a record of 4-2.
The Oakmont varsity softball team consists of two seniors, two juniors, three sophomores, and eight freshmen. Despite there being mostly underclassmen on the team, the whole team is considered to be close with one another. For the past two years, there has only been a single team for softball due to the low number of girls who tried out for the team. 
Head coach Marc Watson, along with assistant coaches Bernie Melendez and Brianna Leavell, have led this group to many victories. While playing many tough teams outside of the Foothill Valley League, the players still manage to battle the whole way through every game and earn their wins. 
The two seniors, Marica Watson and Olivia Ward, are thrilled to be part of this team for one last season at Oakmont. Watson has played on the varsity softball team for all four of her years at Oakmont, and has just recently committed to Folsom Lake College to continue her academic and athletic career. 
"I am so excited to continue playing for two more years, as well as start my life and grow as a person and player," Watson said. 
By being on the softball team, she was able to learn valuable life skills that she can use as she grows up. 
"My main challenges were juggling school, softball, and work at the same time," Watson said. 
Being a part of a high school sports team can be really challenging for many young students, but it's helpful to have teammates building support through it all. 
"I am really sad that this is my last year, but I am super grateful for all the girls I have been able to play with throughout my four years here," Watson said.