Earth Week
What those at Oakmont did to spread awareness and celebrate.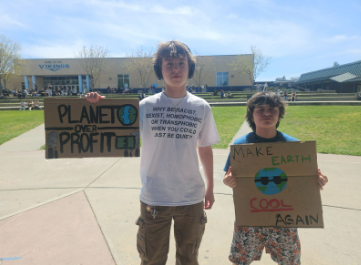 Worries about the climate have been present in the world for a while now, from ice glaciers melting to global warming, air pollution, and much more. 
In April of 1970, Gaylord Nelson, an American politician and environmentalist, came up with the idea of Earth Day as a way to not only bring more light onto the issue, but to also bring it into a national view, and help educate people on environmental issues.
As decades have passed, people have expanded the holiday from being just April 22, to now being the week of Earth Week, hence why it is called Earth Week. 
This year, Oakmont decided to take up the opportunity to give the students the chance to celebrate, giving each day during the week a theme/name. 
Starting off the week with "Mother Nature Monday," students spread awareness about the importance of native and non-native plants on the environment. The effects of pesticides and different forms of pollution were also talked about. 
"I used a lot of knowledge I had gained from my IB Environmental Science class to add my own touch to these discussions as well," Lukas Coleman, junior, said. "Our table [also] had an option to have people sign up for seed bombs."
Along with further educating students on the present concerns, seed bombs had been handed out to students after school for them to place wherever they pleased. 
"Inside of each seed bomb are California poppy seeds, which are native to California," Sarah Bezdek, senior, said. "The goal with handing them out was to help foster the natural biodiversity of California. The recipients of the seed bombs can plant the seed bombs in a little soil and the poppies will grow."
On 'Terrestrial Tuesday," there was a game of environmental "Jeopardy!" which made the connection between the planet and protection of the people. Intersectional environmentalism had taken place during first and second lunch.
"We hoped…we could educate the student body about how certain groups unfairly bear the weight of climate change," Lara Cabriga, senior, said. "Ultimately, we hoped that increasing awareness about intersectional environmentalism would inspire others to advocate for equal access to resources and uplift the voices of marginalized groups within the scope of environmentalism." 
Hopes soon had been granted, as a great deal of students had taken quite an interest in the game. 
"We had a lot of students gathering around to participate, which was overwhelming at first, but it gave us many opportunities to inform people about environmental injustices present in both our community and the world," Cabriga said. 
During "Wildlife Wednesday," a game took place in the quad during lunch, where those participating had to save animals from threatening habitats like pollution, oil spills, and forest fires. 
"Two volunteers would compete to 'save as many animals as possible.' and whoever had the most after 15 seconds would win," Ciera Mendoza, senior, said. "The habitats we used were drawn on recycled cardboard that Sustainability Club collected, and the small prizes we had were put together by Interact Service Club and were animal-themed goodie bags."
When it was time for the game to begin, it had gained a great amount of attraction. 
"A lot of people were interested in the game and had a lot of fun with it, " Zoey Bowers, senior and referee of the game, said. "It was also cool seeing everything we've been working on with [the] Sustainability Club come to life." 
Going into 'Thrifted Thursday," thrift pop-ups were put out during both lunches, along with an eco-friendly fashion contest.
"The main goal for it was to allow a group of individuals to have the opportunity to buy used clothes for a low cost," Bailey Blackstock, junior, said. "It allowed our school to come together because so many people donated their clothes, so there was a decent amount of clothes sold…[which] was a great turn out as there was a lot of customers and everyone seemed to enjoy it."
To end it off, on "Fridays for Future," there was a climate awareness photo booth in the quad during lunch, where students could pose and take photos with Earth Day-themed signs. 
"This was inspired by Greta Thunberg's Fridays for Future, which is an event that happens every Friday to help raise awareness about climate change," Bezdek said. "There were signs that we made and students got to choose from the selection of signs and then pose by themselves or with a group of friends for a photo. I think that this went really well, there were a lot of people who came to pose with the signs."
From adding onto others' knowledge, handing out seed bombs, holding games, thrift pop ups, and a photo booth, this year's Earth Week at Oakmont had turned out to be a great success.