Oakmont boys tennis team
Behind the scenes of how players prepare for matches.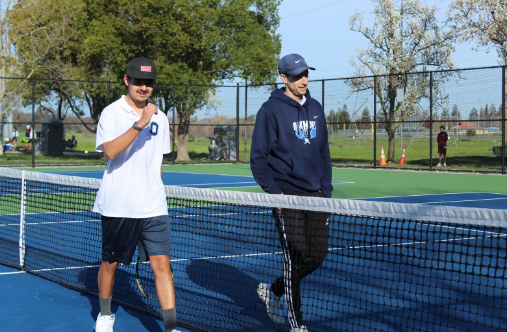 The Oakmont Vikings boys tennis team has worked very hard to reach where they are today. Starting with a great first match of the season against Del Campo on February 23, the team has been working hard with Coach Bacchi by their side. 
"My favorite part is seeing a group of diverse boys come together for a common goal of becoming better student athletes," Bacchi said. "I also love seeing the growth in the tennis skills but also their mental game throughout the season." 
Having a supportive coach by your side can effectively improve problem solving skills as well as motivating you to get better and better. 
Sahil Tandel, a senior tennis player, mentions how coach Bacchi has helped the team become better tennis players. 
"[Coach] Bacchi always wants us to keep the mentality of the opposing team being good [by] default, and throughout our warmups he always advises us to keep our head in the game," Tandel said. 
Preparing for matches can become really stressful at times due to the rain this season. Matches have been pushed back and even canceled due to the heavy rain and wind. 
"This season has been way different than those in the past," Bacchi said. "We did not have access to our tennis courts until five weeks into the season. While we often conditioned, cross-trained, and hit the weight room – this still was not playing tennis; and once we got courts, we are still fighting the rain, which is quite challenging."
Even with the difficulties the team has faced this season, they still try their best and practice as much as they can. 
"The team and I prepare for our matches simply by relaxing and not really stressing about the game too much," Tandel said. "We're usually relaxed on the way to games, and with pre-game warmups – just to not stress, but also keeping our heads focused for the games." 
When athletes are enthusiastic and driven, but calm and composed during competition, they tend to perform at their best. Performance begins to decline when they get overly anxious and put too much strain on themselves. This is why staying calm before games can be really beneficial towards performance. 
Although the team had a rough start to the season due to harsh weather, they still managed to play well and enjoy their time.