Week one of FVL league play
Oakmont Vikings vs West Park Panthers.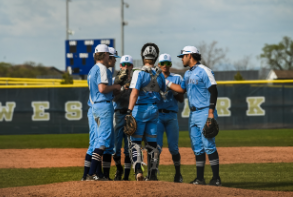 This past week, the Oakmont Vikings opened up league play against the West Park Panthers. The Vikings entered league play at 5-4, and the Panthers entered at 6-2. The Vikings are trying to start off like they did last year, getting a sweep in the first series of league play. 
Game one of the series was played at Oakmont on Thursday, and it was a pitchers duel. The Vikings' starter, Ayden Drigenberg, would toss a complete game for the Vikings, giving up only three hits and a single run. The only run of the game came on an error on a pick-off play.
The Panthers' starter, Tyler Hutchinson, would match Dringenberg – tossing a complete game, shutting out the Vikings. The Vikings would lose 1-0, falling to 0-1 in league play, 5-5 overall. 
Games two and three were played as a double header at West Park because of the rain earlier in the week. The Vikings would start Trevor Wison on the mound, opposite Panthers' starter Andrew Curtan. Wilson tossed four innings, giving up seven hits and seven runs, five of which were earned. Reid Harris would relieve Wilson, throwing two scoreless innings to keep the Vikings in the game.
Curtain for the Panthers would throw five innings, giving up four runs on five hits. Caleb Peck would come in to relieve Curtain and throw the final two innings, only giving up a single run. The Panthers would outlast the Vikings 7-5. As a result, the Panthers won the series. The Vikings fall to 0-2 in league play, 5-6 overall. 
Game three was a must-win game for the Vikings, looking to avoid a series sweep and a deep hole that would be hard to climb out of with hopes of retaining the Foothill Valley League title. The Vikings would put ace Kurt Marton on the mound. 
The Vikings would take momentum early, scoring a run in the first inning to go up 1-0. The Panthers would then respond with a run of their own. It would be scoreless then until the fifth inning, where once again, both teams would trade a run. It was 2-2 going into the sixth, where the Vikings would score a run to take the lead 3-2. 
Marton would throw a complete game, only giving up three hits, two runs, with a season high 12 strikeouts. The Vikings would win 3-2 behind another great performance by Marton. 
The Vikings move to 1-2 in league and 6-6 overall, going into week two of league play against the Ponderosa Bruins.