Junior Prom
A dive into Oakmont student leaders' perspective on the most recent rally and dance.
During the March 20-24 school week, students were met with anticipation for Junior Prom, set to take place on Saturday, March 25.
The hype for the dance really built on Friday, March 24, with the typical pre-dance rally – organized by freshmen Peyton Gomez and Abby Larsen, along with sophomore Baylee Darghty.
Due to the significant meaning of the rally, the Student Government rally committee had to work over the course of multiple months in order to make sure it ran smoothly.
"We started with trying to pick games and stuff, that was the first thing we did," Gomez said. "After that, we started working on who we wanted [to participate], which was difficult." 
While the amount of events for the rally were kept down from previous rallies, there was still plenty to be accounted for. Including Rapunzel's tower.
"It's basically Rapunzel's tower at the very beginning of the movie," Larsen said. "It's made out of lots of cardboard boxes, really big, gray poster paper, and also purple poster paper."
With the rally's success in building hype for Saturday's Prom, students went into the day looking forward to what the dance had to offer.
Although the dance looked slightly different this year, with the cafeteria holding the festivities, many students felt as though the setting was a positive change of pace, and worked very well given the theme of "I See the Light," originating from the Disney movie, "Tangled."
Junior Jack Crowell, ASB President-elect, was responsible for coordinating the events for Junior Prom this year.
"We started planning the dance… in late February or early March," Crowell said. "We kind of started with a general overview of the dance, and what we wanted to get done."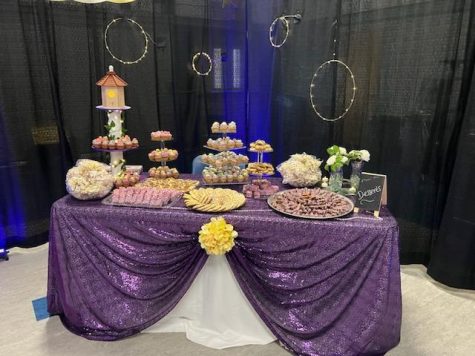 Despite the setbacks and challenges, many students responded well to the dance, with Crowell mentioning he's "heard a lot of good things" about the setup.
Now, after the conclusion of Prom, Student Government's focus turns to Senior Ball, set to be held at The Ridge golf course on May 20.