Rihanna's special halftime guest
Rihanna announces her pregnancy at the Super Bowl halftime show.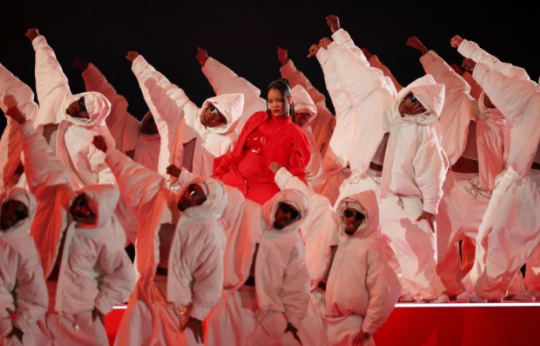 After a long-awaited six years, Rihanna returns to the stage for Super Bowl 57 with a 13-minute ballad of her most famous songs. Starting off this performance, Rihanna stood on a levitating platform while revealing her pregnant stomach as she sings "B—- Better Have My Money" and transitions into "Where Have You Been." 
Throughout the duration of the performance, there were platforms in the air with backup dancers on them, with this being one of the only Super Bowl performances that took advantage of the air space in the arena for an entire performance. Although her idea of the performance was good on paper, many people are saying that it was very lackluster. 
Critics said they were surprised that there was no guest star. Many fans were assuming her husband and rapper A$AP Rocky would guest star, and many people were disappointed when he didn't appear. However, some believe she did so well she had no need for a guest star.
Along with these statements, many people say that Rihanna was very dull with her dances, without taking into perspective that she is pregnant and has not gone on tour since 2016.
Although these criticisms were rough, Rihanna's marketing during this show was flawless. For starters, halfway through her performance, she touched up her makeup with a Fenty Beauty product, which is a makeup line she runs. Fenty Beauty earned $5.6 million in earned media in the first 12 hours following the game, according to Forbes magazine. Furthermore, her digital album sales went up 301%. 
Rihanna also "broke" Twitter after the Super Bowl Because of the news of her pregnancy. "Not Rhi Rhi breaking twitter lol," said a fan on twitter. 
It has been about seven years since her last album was released, but after her Super Bowl performance she gave hints that she might be putting more music out soon. "I'm feeling open to exploring, discovering, creating, things that are new, things that are different… I just want to play," Rihanna said. "I want to have fun. I want to have fun with music."
Rihanna told British Vogue that she hasn't stopped recording music, even though she hasn't put any out recently. This could lead to new albums and potentially even tours. Although this probably won't happen until after she has her second child, this is still getting fans excited.