Prison swap sparks controversies
American WNBA Britney Griner is free from Russia in exchange for Merchant of Death, Viktor Bout.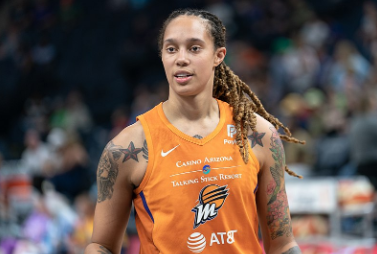 Women's National Basketball Association (WNBA) player Britney Griner was detained on Feb. 17 at the Moscow Sheremetyevo Airport when Russian authorities found vape canisters containing cannabis oil in Griner's luggage. 
Griner was traveling overseas to Russia during the offseason, and was returning to play for UMMC, a club team, in Ekaterinburg, Russia. 
On March 5, the first public announcement in regards to Griner's arrest was published by the New York Times. The article detailed that Griner was in custody for drug charges with a maximum sentence of 10 years, as Russia has harsh drug laws with no exception for cannabis products. 
Thereafter, the U.S. Secretary of State Antony Blinken said that there was an "embassy team that's working on the cases of other Americans who are detained in Russia," and he was providing assistance to every citizen who was held in another country, according to an ESPN article. 
Despite the Russian laws, the U.S. The Department of State declared that Griner was wrongfully detained, and the United States was willing to negotiate her release. 
On May 25, 2022, Griner's wife, Cherelle Griner, called President Biden to help bring Griner home, stating "He has that power. You know, I'm just like, 'Why are we not using it? Like, urgently, use it.' We're expecting him to use his power to get it done," in an interview with ESPN. 
Weeks later, on July 7, Griner pleaded guilty to the drug charges, claiming that she accidently brought cannabis oil into Russian soil, and she didn't mean to break the law. However, simply admitting to guilt doesn't end the trial, so the case continues until the prosecutor's case is on the record. 
During this time, the United States still made efforts to negotiate terms with Russia for the return of Griner. Even so, on July 27, 2022, Blinken announced that the United States made a deal that offered a trade for Russian arms dealer, Viktor Bout, for Griner and former United States Marine Paul Whelan. 
While the United States negotiated, Griner's trial persisted – and on Aug. 4, 2o22, Griner was found guilty and sentenced to nine years in prison and fined for one million rubles, about $16,700 American dollars. The trial still allowed for trades.
The following months, in late November, the Russian deputy foreign minister, Sergei Ryabkov, said that there was a possibility that the Merchant of Death, Bout – who was serving 25 years in the U.S. – could return to Russia. 
Then, on Dec. 8, 2022, President Biden signed the trade in the United Arab Emirates to free Griner, however they left behind Whelan, a former U.S. Marine and American corporate security executive who, according to the President, had also been wrongfully detained for espionage. Whelan was taken under the Russian authorities in 2018 and was sentenced t0 16 years in prison.
According to a NBC news article, it is more difficult to retrieve Whelan. Even so, Whelan's Russian lawyer, Vladimir Zherebenkov, noted that the exchange is a one to one, and Griner was a "more humane" individual, compared to Whelan who was in the military and it's "easier for him to be in custody" according to the article. 
High-profile prisoner swaps between Moscow and Washington have not occurred since the Cold War, according to a New York Times article. The center of the exchange for Russian President Vladimir Putin is Bout, who has served 11 years in the United States.
According to a CNN article, "Viktor Bout has been international arms trafficking enemy number one for many years, arming some of the most violent conflicts around the globe," Preet Bharara, the US attorney in Manhattan, said.
The process of the exchange has been an ongoing controversy as Bout posses a threat to public safety.  Derek Maltz, the Drug Enforcement Administration agent who oversaw the investigations of Bout, said in an ABC News article that the trade between Bout and Griner was "really upsetting to [him]" and "[he's] very disgusted." 
Maltz noted that the return of Griner is a "a great day for Brittney Griner and for America," however, the exchange of Bout poses potential endangerment of Americans who travel internationally. 
Additionally, many argue that President Biden made a bad deal. On Fox News, Rep. Mike Waltz, R-Fla., noted that "Biden just gave Putin a huge, huge tool in the tool kit to fund and arm Russia's war machine." 
Alas, Griner is home safe and "back in the arms of her loved ones."