Wrestling is back
Wrestling season is up and running.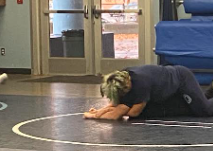 With the football and tennis seasons coming to a close,  it is no surprise that there are going to be a handful of students joining this year's wrestling season. Even though wrestling isn't as popular as basketball, wrestling is a good sport to watch due to the rapid amount of events that are bound to happen. 
Wrestling is a sport where two opponents meet in the middle of a 10-foot diameter circle who are around the same weight. While there is no punching or kicking like the WWE, wrestling requires you to grapple your opponents and either win by a pin – meaning to put both shoulders on the mat – or by winning with the most points.
With the team being mostly junior varsity, Coach Bussy and everyone in the varsity team is doing what they can to help anyone with moves that might be either too confusing or too advanced. While wrestling does demand strength and stamina, it mostly includes technique and mental strength.
While it is unfortunate for the seniors to leave the following year, the coaches and more experienced wrestlers would be able to help out the newer wrestlers with their technique and mental strength. Considering most of the team is going to be freshman and sophomores, that means the sophomores are going to have to lead the team throughout the years.
Most people don't realize that wrestling requires a lot more than strength: it requires you to be fast, observant, and requires you to be resilient. It also requires a lot of technique and timing to know what position you're in. While most of wrestling is mental, you need to also have a sense of urgency to set up what you need to wrestle.