The Gift Of Giving
Oakmont's "Santa's Helpers" give back to the community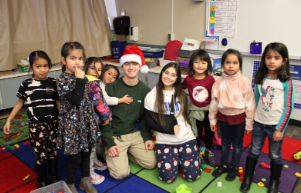 As the days approach closer and closer to Christmas, there is always the flurry of last minute shopping, the wrapping of countless presents, and the convivial yet busy commotion of spending the days with family and friends. 
But while these simple luxuries of the holidays are available to many people's lives, others are not always as fortunate enough to enjoy these things too. 
This year, a group of Oakmont students, otherwise known as "Santa's Helpers," dedicated themselves and their time to bring Christmas spirit and joy to young students at FC Joyce Elementary School in North Highlands.
Being an ongoing tradition for 15 years at both schools, Oakmont's Santa's Helpers program has been a heartwarming event that fulfills the main purpose of giving kids a fun, festive experience that some may not be able to have at their own homes.
Ms. Gallegos, the activities director and student government teacher at Oakmont, prioritizes and sets the goal of the event with her students, making sure they grasp the whole significance of it.
"We're coming to bring joy to FC Joyce and that is the goal," she said. 
Upon the day of arrival, the kids had bright faces that were filled with cheer and instantly became attached to their high school volunteers.
Ms. Freeman, the vice principal at Joyce Elementary, highlights the significance the event has on all the children at the end of the year. 
"This is always the highlight of the winter holidays," she said. "This just means a lot because a lot of kids have stuff going on at home, and just to have this and to see you guys as role models is really nice."
Even the presence of the high schoolers around the children, whether playing or assisting them with designated holiday crafts or games, really mirrored the children's admiration, and appreciation for Oakmont's students. 
At the end of the day, the kids left school with hands full of Rice Krispie treats, ornaments, gingerbread houses, visits from Santa, and Christmas stories vivid in their minds. 
While this event was targeted towards creating a positive experience for the children, it's keen that it also benefited Oakmont's volunteers as well. 
Amidst the chaos during this time of the year, not only did Oakmont's students help others, but also brought joy into their own lives in doing so. This annual experience allows them to get involved, develop a different worldview, and shows the true essence of what the holidays are all about. 
Because, what can be better than the gift of giving?
Afterall, this is the season of giving, and time can be the most valuable gift of all.