Oakmont's 2022 "Lights, Camera, Dance" show
The success of dance's annual performance.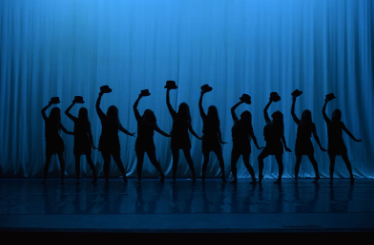 Oakmont has been putting on highly impressive dance performances for years on end. Every year, there is great anticipation for the shows, as they are a major part of the performer's experience in the course, and it's what they've been working on all semester. 
The dance show was directed by dance teacher Mrs. Huber, who transferred to Oakmont for the 2021-2022 school year, previously having taught at Rocklin for 15 years. With all of her experience, she's been able to collaborate with the dancers to create something special for friends and family. 
Along with Mrs. Huber, students in dance took on the opportunity of directing some of the dances in the show, along with previous Oakmont dancers.
The performers had a lot of emotions towards the show, as there had been a lot of build up for it. 
IB dance student Sarah Jabbarnia performed her first performance for Oakmont dance, while having previous on-and-off dance experience of 10 years.
"I'm really excited, because I think there are some really cool choreographers, and personally I love every single piece in the dance show," Jabbarnia said. 
The process of the entire project was a large amount of work for the director, choreographers, and dancers. 
"[It's] stressful, but exciting," Jabbarnia said. "I'm exhausted, but personally I think it was so cool getting to see everyone's choreography. Everybody's come so far."
Fellow dancer and senior Sofia Lutsuk has been dancing for Oakmont for two years, with 10 years of dancing experience altogether.  
"I love performing in [the] dance show, it's my favorite part of the year!" Lutsuk said. "It has been stressful, but definitely really rewarding seeing it all come together at the end." 
Not only was there excitement from the performers, but by audience members as well, as dance had been promoting their performances since the beginning of the year. 
Junior Gracie Titus had been looking forward to the big event after discussing the show with several friends. 
"I've heard a lot about it from my friends," Titus said, "I know two people [in the show]. I'm really excited because they keep talking about it, so I'm hoping they do well."  
What's intriguing about the show is the fact that students get to see their friends up on the stage performing in all the different costumes, brimming in the bright and colorful light. 
The dancers then performed four shows from Dec. 8-10. 
The Performance
The dance performance was amazing as expected. It featured a variety of different types of dances, including contemporary, hip hop, and jazz. 
It was extremely impressive seeing all of these dances which were directed by students – it showed a sense of coming together and creativity. 
Each of the dances included beautiful lighting and music that helped express specific emotion. Some of the dances had dimming lighting, which created a fun and classic feel, taking inspiration from the classic broadway show "Chicago." 
Not only did the lighting and music help captivate the audience, but the dancers' expressions gave off such a powerful feeling. 
Dancer Skye Richardson spoke on her experience dancing on the lit-up stage. 
"I felt on top of the world and in sync with the different characters of my dances," Richardson said. "I was a little nervous, especially during the nights my family came to see me, however it was easy to block out the distractions and have fun up there." 
Diana Beevers also spoke on her journey now that she has finished her last dance performance. 
"On stage I felt as though I was capable of anything, and I felt like my movements held a certain power to tell a story," Beevers said. "I also felt nostalgic as I recognized this was one of my last performances." 
The dancers definitely had a lot on their plates, but nonetheless, they did a phenomenal job.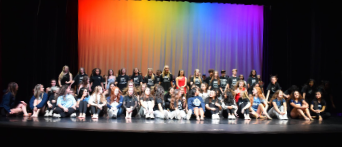 After the show
Everyone who either attended or performed in the show had a lot of feelings as it came to an end. 
Dancer Ary Nelson felt a load of emotion once the performance was over.
"I feel happy with the way our performance went, but I'm sad that we will never get to perform those dances again and have the same connection[s] we had with the other dance classes," Nelson said. 
Freshman Sawyer Winkel had a lot of excitement about watching her friends as well as the dance number which was held at the very end.
"It was impressive and met my high expectations," Winkel said. "[I] liked the hip hop number[s], those were cool."
Junior Clarissa Valdez attended one of the performances with some friends.
"I thought it was really good and I was really proud of all my friends in it," Valdez said. "I really liked the dance my friend Sarah choreographed, 'Carolina,' and I also liked 'Bohemian Rhapsody.'"
There was definitely a ton of positive feedback, which was rightfully deserved. All of the hard work the dancers and directors put in absolutely showed.