An uplifting closure
"What feels like the end is often the beginning." – Unknown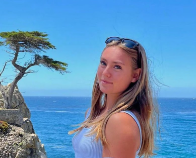 Julia Petersen is a senior at Oakmont High School, and she has made plans to graduate from school early and continue her education at Sierra College for this upcoming spring semester. 
Petersen has participated in water polo, as well as swim, for all four years at Oakmont. Unfortunately for Petersen, her swim season is being cut short because she is graduating early – she will not be able to compete for Oakmont's swim team. 
"I have thought about graduating early for a really long time, and it's a really big decision to make and kind of scary," Petersen said. "I just wish I could do swim, but I think this is the right choice for me."
In order to graduate early, one must have passed all their previous classes while having good grades.
"Grades have always been really important to me, and going into high school I wanted to have a 4.0 [GPA] – and I am glad to have been able to do that," Petersen said.
Since Petersen is making this early transition, she will be missing out on some school activities during the spring semester. 
"I think the worst part of graduating early is that I can't go to the end-of-year dance or Fun in the Sun, which sucks because I feel like going to those really wrap up the year," Petersen said.
Sierra College offers many programs and pathways, and Petersen plans on taking advantage of the programs and furthering her education at a university soon after.
"I didn't really know what I wanted to do in my future until this year, which is to study [to become a] pediatrician," Petersen said. 
The change from High School to Junior College will be difficult, and Petersen hopes to make a smooth transition.
"I want to take as many credits as possible this semester, which is 18, and I'm a little nervous because I will be right out of high school – but I think taking all these classes will prepare me even more for my future," Petersen said.
Petersen has proven to be a model student at Oakmont High School, and will continue her hard work no matter where her future takes her.