A review of the production "Little Shop of Horrors"
Delving into the fall musical put on by Oakmont's drama department. This piece includes spoilers!
The musical "Little Shop of Horrors" was originally a film that came out on Dec. 19, 1986 and became a broadway show on Oct. 2, 2003. Since then, the musical has been a classic horrific comedy for theaters to perform. 
Oakmont's drama department decided to take on "Little Shop" and present six shows during two consecutive weekends. The department performed the musical on Oct. 27-29, as well as Nov. 3-5.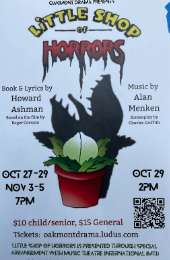 The production began with a prologue discussing themes the musical would soon present. The musical ensemble then began singing songs that incorporated the highs and lows of "Skid Row," where the musical takes place.  
What was immediately impressive was the work of the crew. They did a fantastic job with timing as far as music cues and stage lighting. They lit the stage in such a way that matched the emotion or feeling of each scene.  
The narration throughout the show was performed by captivating actors delivering the story through singing and dancing. It definitely made me feel more connected to the show and it kept the show at a good pace. 
The audience is then introduced to our main character Seymour Krelborn, who was excellently played by sophomore Leo Stacy. He captured the essence of the orphan character's attitude perfectly. He had such captivating energy that made you feel the character's anticipations and anxieties.
The orphan spends his life working for Mr. Mushnik in a flower shop. Business for the shop is decaying, the same way the plants that sit in the shop window do. 
With that, the show introduces said owner of the shop, Mr. Mushnik, who is essentially a father figure to Seymour and later adopts him. Mr. Mushnik was played impressively and comedically by senior Maya Kasim. The character had a lot of compassion for his store, and Kasim was able to portray his desperation in a humorous and convincing way. 
Seymour lives his life essentially wanting to be wanted. He feels as though he has the potential to do great things in life, but is stuck in a place where he can't achieve such success. He has numerous wants, but he especially wants to be loved by his co-worker Audrey, played by sophomore Allison Vandivier. 
Vandivier was able to beautifully portray this sweet and loyal character. The character was very timid due to her rocky relationship with her abusive boyfriend, but that didn't stop her from being the kind-hearted person she was. Vandivier had such a sweet and powerful voice that created a very believable character. 
After the three of them struggle with business, Seymour brings up the fact that he found a suspicious plant that could potentially boost business. Once he brings out the plant, there is immediate attraction. Seymour named the plant Audrey II dedicated to his one and only love. 
One of the most captivating characters, Audrey II, was played through puppetry. The character was voiced by various actors which added a thrilling feel to the character. There was so much range in the actor's voices which helped make each song the plant was in sound outstanding. 
Throughout the show, Audrey II grew enormously in size. This was due to having easy access to the food it had craved. Seymour finds out that the only way for Audrey II to grow is by consuming human blood. The plant wants nothing but to be fed. Seymour feeds the plant his own blood until he can't take it anymore, leading him to find an alternative.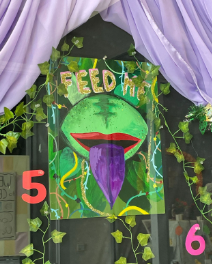 The first victim was Audrey's abusive boyfriend, Orin Scrivello, who was energetically played by senior Vinze-Kenji Atos. The character wanted everyone around him to suffer. While he's villainous, Atos played him in such a lovable way. He had an excessive amount of charisma and confidence on stage. 
After unexpected events occur, the evil boyfriend dies and Seymour fortunately has a meal for his human-eating plant. The plant then grows more and Seymour begins to have mixed feelings about Audrey II and keeps it a secret from everyone. 
Business skyrockets, and opportunities are presented to Seymour which puts a lot of pressure on him. Between the pressure of the press, Mr. Mushnik being eaten by the plant, and Audrey II continuously wanting to be fed, it still all comes down to his love for Audrey. 
Actors Stacy and Vandivier had such great chemistry capturing the sweet and pure love they have for each other. They had a shy and slow-burning development for their relationship, and the audience watched as their feelings grew more and more for each other. 
As Audrey is still kept from the fact that the plant craves human blood, she enters the store alone looking for Seymour when she is viciously attacked by Audrey II.
Seymour notices what's going on before she's brutally devoured by Audrey II and saves her. Ultimately, she doesn't survive the attack, and dies a slow yet peaceful death with Seymour by her side. 
Seymour is fed up with the plant as it slowly takes the things that mean the most to him, and eventually feeds himself to Audrey II. 
Overall, the musical was definitely worth seeing. There was strong acting, and definitely powerful voices that fit so well together. Each and every one of the actors had a deep connection to their character, which made the show highly entertaining.