New Beginnings
A nimble start at Moksa Barrel House.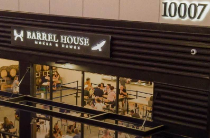 Moksa Barrel House, a restaurant on Foothills Blvd, opened on Sept. 2 in Roseville, California. 
Aidan Chang is a college student at Sacramento City College who works at the newly-opened restaurant, and has for almost a month. 
Chang has learned many things about the business, as well as how to properly run one.
"When I graduate college, I want to open up my own coffee shop and start a small chain," Chang said.
Chang would like to have a more rustic-type of coffee shop, with his first shop being inside of a custom cargo shipping container near the ocean.
Upon entering the establishment, you are greeted with joyful employees who are happy to serve you. 
The decor is simple yet satisfying, with paintings on the walls and large wine barrels running alongside the walls both inside and outside the restaurant.
Moksa Barrel House is known for their alcoholic beverages as well as their great food and coffee. 
"I think this job is perfect for me because I used to work at a coffee shop, but I just got tired of it because I didn't like the way it was being ran,"Chang said. "Now I get to make pastries and coffee all the time."
Although the Moksa Barrel House became popular for their quantity of alcoholic beverages, they also have a wide variety of tasteful food and pastries. 
During the week, Moksa Barrel House is open from 7 a.m. to 10 p.m., but on Friday and Saturday nights they stay open until 11 p.m. to accommodate everyone who likes to stay out late on the weekends.  
Moksa Barrel House is a well-run business with many unique qualities.