Whitmer School shooting in Toledo, Ohio
Three people were shot at a Whitmer football game and are expected to fully recover.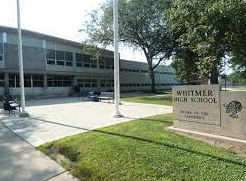 On Friday Oct. 7, at a high school football game in Toledo, Ohio, two shooters opened fire into the Whitmer student section. This led to injuries to Maurice Winfree, a 21-year-old Toledo resident, Breanna Burwell, a 28-year-old Florida resident, and a 17-year-old student, whose name the officials have not yet released. 
The football game against Central Catholic High School turned into a disaster at around 9:50 p.m. with five minutes left in the fourth quarter, when two gunmen in ski masks got out of their car and started to shoot into the student section. This shooting was classified as a drive-by shooting, which is one of many in the Toledo area.
Multiple audio recordings showed that there were about 20 shots sent into the crowd. Multiple witnesses stated that it took them a long time to understand the situation because they couldn't tell if the shooting was outside or inside the game.
In the videos released to the public, it showed that it took the crowd about five shots to comprehend the situation that was going on around them. This caused the crowd to panic and start running for safety. 
Many students from the Toledo student section have spoken about what this experience was like for them, explaining what their thought process was like at the moment of the shooting. 
"It was kinda scary seeing everybody run and talk about that it's a shooter, I didn't know if it was inside the game or out," student A'Kavia Jones said. 
Many of the people who were in the student section said that it was hard to figure out if the shooting was going on inside the football field and crowd or just outside. They soon figured out that it was inside.
Due to the shooting at Toledo, students across the city spoke in support of the victims of the school shooting at Whitmer and are now making a statement against gun violence.
"It's a high school football game and there's people driving by shooting and this isn't the only time in Toledo, the past few years in Toledo has just been a mess," Northwood High School student Colin Arthur said.
Northwood chose the color orange to wear at their next football game for gun control awareness because it's bright and makes a statement. 
Ottawa Hills High School has also joined Northwood in the orange-out day, even though they will be playing against each other. 
The opposing school, Central Catholic High School, has released a statement saying, "We want everyone who visits our campus to experience a secure environment and we need the support and cooperation of our visitors to help us meet this goal."
There are no suspects as of this moment, but the suspect's car is said to be a blue Dodge Charger and the details of this story are still being updated due to it being an ongoing case.