Mock trial team gets new lawyer coach
Oakmont's mock trial members get a better insight into what it's like in a courtroom.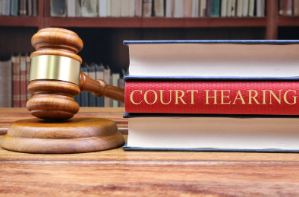 Going a step further towards enacting the reality of a court case, this past year, our Oakmont mock trial team acquired a lawyer, Dennis Seley, to coach the trial members. 
This would hopefully serve to provide them with a more thorough, authentic experience.
That said, intention can conflict with reality. It is thus up to those involved to determine the true effectiveness of this recent addition. To provide insight into the situation, previous mock trial teacher Kimberly Carroll, who taught both while there were lawyer coaches and while there weren't, commented on what things were like in the absence of one.
"Our first year back after the pandemic, we had no lawyer coach, and it was definitely harder," Carroll said. "Because the officers have to take on more responsibility for teaching and you don't have a lawyer's feedback for how you're doing during the performance part."
Mock trial president Gogod James, who has been on the team for most of his Oakmont career, shared similar thoughts concerning the responsibility placed on the students to lead and teach. Mainly, that it could prove difficult, as while the students were knowledgeable on the subject, it was not to the same degree.
"There were a few points that we were definitely missing," James said. "There's certain things that you don't even realize that you don't know, until you have someone who's been a lawyer for such a long time."
Having discussed what they didn't know in the past, James went on to speak about what they do know as a result of Seley's instruction.
"I think Coach Seley does a great job at teaching us new things," James said. "One of the main things he teaches us is objections, so I think he does a great job at teaching that and just providing general insight for our team to be prepared for the actual trial."
It seems that the overall sentiment towards Seley's addition to the Mock Trial team has been a positive one, providing detailed, accurate information for the students and a better understanding of the elements of a real trial.
"I think it's going to be fantastic that they have a lawyer coach this time," Carroll said. "And I know he's going to be helpful for them as they learn to cross-examine witnesses and learn how to present their case."