Calling all readers and writers: The Crow Club is here!
Getting to know the brand new literature club for all Oakmont creative writers and English enthusiasts.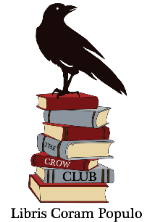 As of this school year, Oakmont students have the opportunity to collectively explore novels and various writing styles provided by a new club on campus. 
Essentially, the Crow Club offers a space where students can take on and explore creative routes in terms of reading and writing. The main focus of the club is to dedicate time to discuss and assemble projects involving different types of academic writing, styles of literature, and extracurriculars. 
The first club meeting with current members was held on Sept. 7. From then on, meetings will occur every other Wednesday from 8:30am-9:30am in room 412. Board members Iniyazh Hariharan, Ellie Barnhart, Madilyn Fu, Berkeley Gross, and Hannah Mitchell invite all those interested to join the club. 
During club meetings, members are able to work on or complete the reading and writing they'd be focusing on for their projects. 
Regarding said projects, club members will have the opportunity to keep their work either private or public as the club holds open mics. This will of course depend on members' comfortability, but is open to everyone willing to present their writing.  
President of the club, sophomore Iniyazh Hariharan, also expressed interest in finding a way for members to have the opportunity to publish their writing to a newsletter in the near future if possible. That way, those who feel comfortable are able to share their work with others.
Hariharan explained her purpose for creating the club and what she hopes for as the club gets promoted. 
"I'm really into reading and writing," said Hariharan. "We're just trying to reach out to any English lovers in Oakmont." 
Hariharan knew she wanted to create a club as she "took initiative and decided to make one," herself after not finding similar clubs at Club Rush her freshman year. This goes to show that students here at Oakmont take on strong leadership roles as they put together projects to pursue their interests while also collaborating with others.
She then felt as though she would put the idea out there in case there were any other students who, similar to her, wanted to find a club associated with creative writing and reading. 
Vice President Ellie Barnhart covered what the club offers for them as a Health Academy student.
Barnhart said if they didn't want to be a doctor that they'd definitely go into "literature specialties,"  as "creative writing is something that [they think] is really fun." 
That being said, this club offers a place for Oakmont writers to store their creative ideas here on campus, even those with extremely busy schedules or for those who are already in other extracurricular activities. While the club focuses on a lot of topics, it is also meant to be a safe space for students to express their own ideas and feel free to be themselves. 
Ultimately, this club is perfect for students who need an outlet for creative reading and writing while also searching for a way to be social and collaborative. 
It is also perfect for students who love the idea of reading and writing, but would rather listen to others for inspiration. 
The idea of gathering with other bookworms to have discussions regarding work from yourself and other members of the club is something that might spike interest in many students on campus.
The members advocate positive and hard-working skills as anyone is welcome to join with the intentions of creating an original and unique impact.