Upcoming fashion trends from New York Fashion Week
Looking at the fashion cycle, Tory Burch's Spring collection, and the new designer lineup.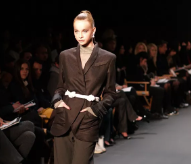 Fashion holds a vital role in our expression of self. Oftentimes, modern fashion holds a distinct taste that has been adopted by society. 
It is common for current fashion trends to bring nostalgia to parents, or even grandparents. From puffy sleeves to bellbottoms,  these staple items can not be attributed to modern fashion; rather it is our interpretation of previous trends. 
The trend cycle typically circles back to popular trends years ago and implements it into mainstream fashion with a modern twist. 
For example, puffy sleeves and shoulder pads were trendy in the 1970's and 1980's. A modern look at this trend can be seen in baggy business clothing with large shoulder pads, or even no structure to the shoulders. 
Fashion experts believe the cycle of fashion trends rises from social media. This is because weeks after looks have appeared on the runway, they make their way into mainstream fashion. 
The name of a designer, a well-known figure showing off the piece, and most importantly the couture design of an outfit can easily have a heavy influence on today's fashion through marketing.
Once the design hits the runway, it quickly falls into the "fashion acceptance" stage, in which it moves into the fashion industry. The design can then be labeled as a "trend". If not, the piece typically would not make it into mainstream fashion. 
Should an article of clothing be labeled as a "trend", it will reach its peak in the general public – with mainstream consumers wearing the trend – but it is typically replicated to fit the everyday person.  
A major fashion event that will be hitting the Empire State in the next coming days is New York Fashion Week (NYFW).
This event will be held in person at the Spring Studios at 50 Varick Street. This will be the main headquarters, however many designers are planning to host their runway shows at different venues throughout the city. 
NYFW will begin with Proenza Schouler's show mid-day on Sept. 9, and the event will end in the afternoon on Sept. 14 with Tom Ford's show. 
As was previously mentioned, big shoulder pads and puffy sleeves will be common amongst many designers during NYFW.
Think bold colors, monochrome, and mix-match patterns paired with chunky shoes and coordinating accessories. 
Oversized is key. Especially for those attending the event, comfort should be prioritized. 
One of the many designers that will be attending this event is Tory Burch. Their collection for the Spring NYFW is called "Ready-to-Wear". 
Many of their designs demonstrate a baggy, yet classy look. 
This season, Tory Burch seems to take a casual approach, by pairing their designs with intricate fabrics and mix-matching textures and patterns, all while having coordination throughout the outfit. 
Aside from the designs themselves, NYFW is notorious for bringing together designers from all around the world, experimenting with unique locations, and driving fashion forward. 
This season, NYFW will be known to have the most diverse finalists in history. With new and returning designers, it will be interesting to see what mainstream fashion will look like. 
To celebrate the 60th anniversary of the Council of Fashion Designers of America, a new lineup of designers who represent fashion on a worldwide scale will mainly appear, as there is an attempt to share diversity in the fashion industry. 
Focus on the new designs of the season to stay on top of new trends.