"The Batman" Puts the Goth Back in Gotham
A review of the latest DC movie, "The Batman"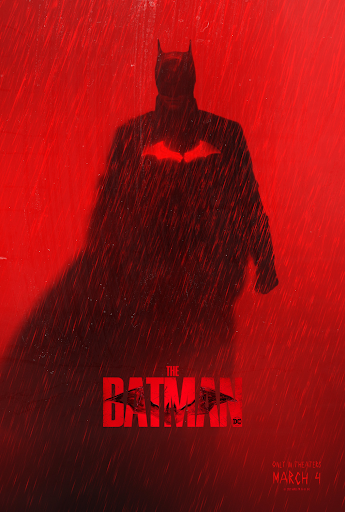 The popular movie, "The Batman" was released on March 4. The cast of the movie includes Robert Pattinson, Zoë Kravitz, Paul Dano, Colin Farrel, Jeffrey Wright, and John Turturro. It was directed by Matt Reeves and produced by DC Films, 6th & Idaho, and Dylan Clark Productions. 
The movie is set in Gotham City, a dark and foreboding city rife with crime and corruption. Bruce Wayne's only goal is to protect Gotham from the corruption that's killed countless and is shown through the violent fight scenes.
"Do we really need yet another 'Batman' reboot?" IGN said. "The answer, after watching Matt Reeves' tremendous 'The Batman', is apparently a resounding yes."
After many installments of Batman, this perfected the scenery for Gotham. It does not shy away from showing its darkness and grittiness. The plague of crime, grunge, and gangsters makes it the most corrupt version yet.
Mae Abdulbaki is a film critic and podcast co-host and currently is TV Editor and film writer for The Young Folks and has also written for Examiner, Punch Drunk Critics, and Heroic Hollywood.
"With exhilarating action scenes, a layered story & poignant, in-depth characterization, The Batman is a worthy addition to the live-action DC slate," Abdulbaki said.
One thing that stood out to me while watching this movie was the scenes that were edited and shot to perfection. Especially the quick cutting and ferocity of the batmobile chase with the cinematography focusing on the side of the vehicles and close to the action.
David Ehrlich is the Senior Film Critic of IndieWire and he used to work as a Staff Writer at Rolling Stone, the Associate Film Editor of Time Out New York, the Editor-at-Large of Little White Lies Magazine, and the Senior Editor of Film.com.
"By far the most nuanced relationship here is that between Batman and Riddler," Ehrlich said.
How can I talk about this movie without mentioning the Riddler? He is the main villain of the story and a great one too. He does a great job at creating a constant looming presence, even when not on screen and his childhood trauma causes him to obsess about exposing the lies of the city.
"What this film does achieve is telling a solid new Batman story, one with some pretty compelling twists and a strong point-of-view on who, exactly, the Caped Crusader is," Liz Shannon Miller said. "By default, that makes it one of the better Batman movies ever made."
Reeves found a way to stand out from all the other Batman films. The city of Gotham feels like a living and breathing place that has existed for a long time and the gothic landscape makes you feel the weight of the consuming darkness.
"This grounded, frequently brutal and nearly three-hour film noir registers among the best of the genre," Peter Debruge said. "Even if — or more aptly, because — what makes the film so great is its willingness to dismantle and interrogate the very concept of superheroes."