Olivia Rodrigo Releases Her Story of SOUR
Olivia Rodrigo collaborates with Disney+ to create a documentary style film for her debut album, SOUR.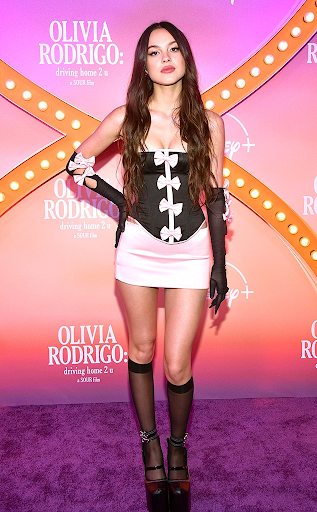 On March 25, Disney+ released "driving home 2 u: a SOUR film" on their streaming platform. In previous promotions by Olivia Rodrigo and Disney+ leading up to the release, the film was said to give further insight into the inspiration and story behind Rodrigo's award-winning album, SOUR. In addition, new performances of songs off of the album would be performed, either in similar fashion to the recorded versions or in a new rendition. 
To say the least, the film was a success. Although little serious detail was given to the backstory behind the relationship/breakup that caused the album, the performances of her hit songs made up for that shortcoming. A hot topic since Rodrigo's debut was her live vocal performances. As the star began to perform live on huge platforms, like Saturday Night Live and the BRIT Awards, many doubted her vocal abilities because her voice appeared less strong than presented in her recorded songs. However, as she has gotten more comfortable performing live, it is apparent that it was only nerves holding her back. Her vocal performance in the film was strong and gave her fans an amazing presentation of their favorite songs. Most notable of her performances was her orchestra performance of 'good 4 u.' When personally watching the album, it was apparent to me that this performance would stand out to viewers. As many on Tiktok proclaimed, the orchestra version of 'good 4 u' was the perfect "villain" song that fans didn't know they needed. The violins in this version gave a different, and almost evil side to this song. Originally, the song was composed as a punk-pop song, many concluding that her inspiration came from artists like Avril Lavigne and Paramore. As much as the original is loved, the orchestra version gave fans a refreshing take on the hit song. 
As the Grammys rolled around the corner, the SOUR film gave Olivia a further boost to her name. The success of her film was the last of her many accomplishments before her dreams came true on April 4 when she won 3 Grammys: Best New Artist, Best Pop Vocal Album for "SOUR," and Pop Solo Performance for "Driver's License." Rodrigo's success is nowhere near done as she continues to thrive as this generation's pop inspiration.