CODA: The First Streaming Platform Movie to Win Oscar Best Picture, A Win For the Deaf Community.
CODA sheds light on the culture of the deaf and CODA community.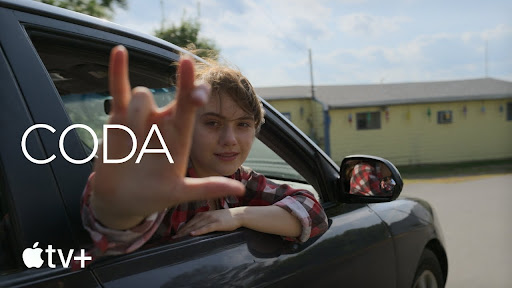 "It's the first time ever we've had a CODA culture on screen," Jessica Brockway, a child of deaf adults said, "All of us CODAs ended up calling each other: 'Have you seen this movie?' Because it brought me to tears.'"
While the slap between Will Smith and Chris Rock may have overtaken all attention at the Oscars, it overshadowed the monumental achievement of CODA's best picture award. This award marked CODA as the first movie distributed by a streaming service to win an Oscar, as well as a win for the deaf community. 
"This is for the Deaf community, the CODA community and the disabled community," American Actor Troy Kotsur said, signing from the stage. "This is our moment."
The movie goes into depth about the culture of the deaf and CODA community as it tells the story of CODA child Ruby as she carries the weight of protecting her parents and brother while unearthing her passion for singing, a talent her parents will never be able to share. 
"CODA does have a double meaning in the title because it's Children of Deaf Adults, but it's also the end of a piece of music," director Sian Heder said. "It's a story about the end of childhood."
CODA did not only win one Oscar but three. The film earned three of six Oscar nominations, Best Picture, Best Adapted Screenplay for Sian Heder, and Best Supporting Actor for Troy Kotsur. This makes him and his co-star, Marlee Matlin the only Deaf actor ever to win Oscars for acting.
"This is amazing to be here on this journey. I can't believe I'm here," Kotsur said. "I really want to thank all of the wonderful deaf theater stages where I was able to develop my craft as an actor." 
CODA had been going up against movies such as "Licorice Pizza", "King Richard", and "West Side Story". It's certified fresh on Rotten Tomatoes with a 94% and an 8.1/10 on IMDb, making it the second highest-rated movie in the Best Picture nominees lineup after "Drive My Car."
"You guys have made such a wonderful and loving family on screen, but also offscreen," producer Philippe Rousselet said. "And everybody wants to be a part of it."