Stephen Curry: A Man Creating A New Level
A deeper look into the influence of the greatest shooter in the NBA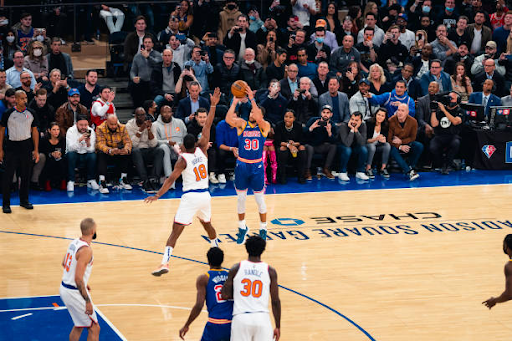 Throughout basketball history, there have been multiple NBA players that completely changed the game and Stephen Curry stands among one of those game-changers.
A generational talent, Curry is a two time MVP, an eight time NBA All-Star, and has won three NBA championships with the Golden State Warriors.
Currently in his 13th season, Curry broke the NBA record for three point field goals made and accomplished this with six seasons less than the former record holder, Ray Allen, who made 2,973 threes in his career.
Even though the record is now broken, Curry continues to set the bar higher as he became the first player with 3,000 career threes throughout NBA history and hasn't shown signs of slowing down.
Accuracy isn't the only thing that makes Curry great, it's also his consistency. From 2014 to 2016, he hit a three-pointer in 157 consecutive games which set the NBA record. On the first day of 2022, Curry broke his own record with his 158th consecutive game with a three point in a game against the Utah Jazz.
Before Curry, three-point shooting wasn't an element in most NBA offenses, as teams would rather take more higher percentage shots. However his revolutionary shooting has completely changed the landscape of basketball.
His influence and the universality of being able to drain a jumper from anywhere on the court, has laid the groundwork for the next generation of NBA stars.
Many upcoming stars such as Trae Young rely on the three-point shot for scoring rather than using it to score on occasion. This thirst for better outside accuracy drives and defines the modern NBA's playing style and all with Curry leading the way.
Moreover, Curry's influence also includes the transformation of the way basketball teams have played around the league, with more and more focusing on their long-range shooting rather than size.
Stephen Curry is the greatest shooter of all time. Along with other skills, his jump shot's accuracy and consistency have brought him to a new level, one that others have yet to reach.