The Goals Scored and Reached this Season
A look at the amazing season performed by Oakmont's Girls Soccer Team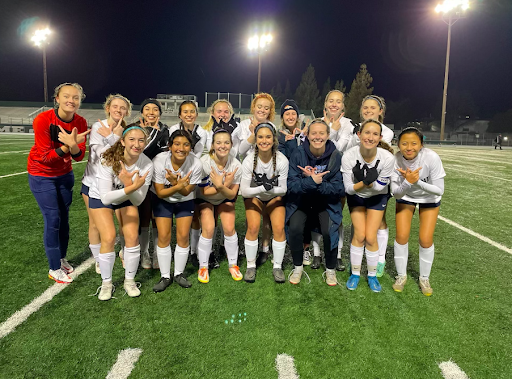 For the first time in years, the Oakmont Girls Varsity soccer team claims the spot of second in the league. 
"Seeing all the girls work together and set the common goal of being successful in the league and going to playoffs help reach goals we were never able to in the past," Varsity coach Stephanie Paulsen said.
Senior captain Amelia Bella discusses the team chemistry and its importance in the girls soccer team's success this season.
"Beating Ponderosa showed extreme growth in skill and chemistry on our team but also was overall one of my favorite memories of mine along with many other teammates who have experienced years of defeat against them," Bella said.
Nevertheless, 3-year varsity goalkeeper Hannah Andreasen shares her experiences in playing those difficult teams and how her team supported her this season.
"Having a strong backline that I have a strong trust and reliance with helped me from being but in dangerous situations. Building that trust on the field helped our team see gradual improvement throughout the season leading to the best victories we've had in years," Andreasen said.
Coach Paulsen continues this by diving deeper into the thought process behind the team this year.
"Having the entire team wanting to strive for success led the girls to put their egos and feelings aside in order to work together and build the chemistry that led to holding each other accountable for their actions and building strong relationships that carried out on the field," Paulsen said.
In order for Oakmont girls soccer to continue this success into next season, junior Hannah Andreasen discusses what needs to be done.
"I think we need to continue to keep our chemistry. Having a good role model like Amelia on our team this year gave us a person to model our behavior after and having someone step up into her position will be key to bringing the team together," Andreasen said.
With the strong communication and chemistry built between the players and coaches this year, Oakmont's girls soccer team was able to accomplish goals that have seemed impossible in the past.