The boys tennis team at Oakmont
An article about how the tennis team works.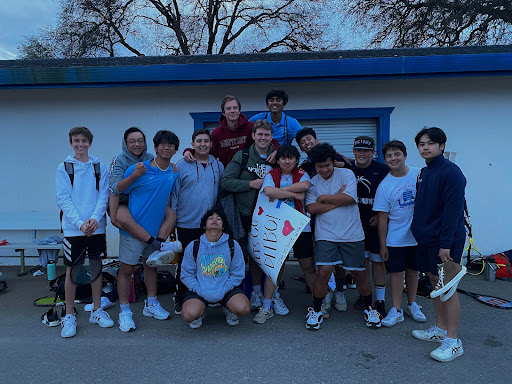 The Oakmont Boys Varsity tennis team's success is largely due to their strong connection with each other. 
The boys from the team are working hard. 
"We play tennis everyday, we practice three days a week and then we have two matches a week, usually on Tuesdays and Thursdays," senior Benjoseph Villamor said.
Every player on the team has a number on the team which correspond to his level and experience. 
"The ladder is essentially the list of players on the team ranked from most experienced to least experienced. As the season progresses, a lower level person can challenge someone that's above them in terms of skill. And then if they win, they can take that position." Coach Bacchi said. 
Senior Adrian Santos wants to have fun with his teammates for his last year of tennis. 
"My goal is just to really have fun. I'm not really focusing on winning. I just really want to have fun as this is my last year here," Santos said. 
Coach Bacchi chose senior Jerich Montecillo as the captain of the team because he is dependable.
"Jerich has been on the team for all years and he is always doing the right thing, always working hard," Coach Bacchi said. "He is not necessarily loud and outspoken, but you can always count on him doing the right thing and people will always look up to him in that sense, so I thought that was a great person to be captain." 
Montecillo and senior Jacob Youell are the two captains of the team and now have more responsibilities. 
"Usually I just go with the flow, but now that I am captain, I actually have responsibilities such as leading the warmups and stretches, making sure I am a good example towards everyone and making sure everyone is on the same page," Montecillo said.
Coach Bacchi has a unique bond with his team.
"Coach Bacchi is definitely an interesting character. He has developed a lot throughout the years. It's really showing that he's opening up to the team. He started coming to food places with us after the games to really bond with the team. He feels comfortable around the people that he is coaching," Villamor said.
The boys on the team have a real strong connection and are really close with each other. 
"The team is a real camaraderie, like a family," Villamor said. "The atmosphere in our team is very positive. We're so friendly towards each other but also we push each other to be better."