The Death of Taylor Hawkins
Foo Fighters drummer passes away at 50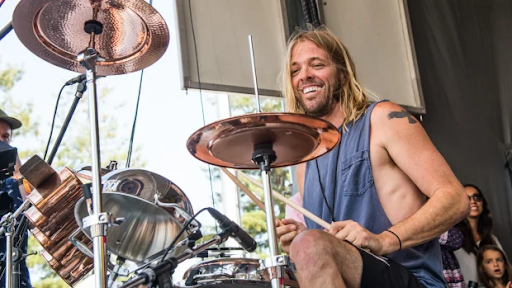 On Friday, March 25, 2022, legendary drummer Taylor Hawkins unexpectedly passed away at the age of 50 in his hotel room in Bogota, Colombia. The news shocked his friends, family, and his millions of fans across the globe.
Hawkins was an extremely illustrious drummer, as he served in iconic bands like Foo Fighters, Coheed and Cambria, Alanis Morisette, and even sung in his own bands: Chevy Metal and Taylor Hawkins and the Coattail Riders.
Inspired by Roger Taylor and Stewart Copeland, Hawkins was a true lover of all things classic rock, and these strong influences shaped and molded the ways he played and approached music as a whole.
Foo Fighters had been touring South America, and Hawkins' last performance was at Lollapalooza Argentina on March 20, 2022. The band was scheduled to play at a festival in Bogota, Colombia on Friday night.
Investigations about his cause of death continue, but authorities propose a drug overdose or cardiovascular collapse as the cause.
On Saturday, Colombia's Prosecutor Office released Hawkins' preliminary toxicology report. The tests had found ten different substances and medicines in his system during the time of his death.
According to CNN, on the night of his death, Hawkins had told hotel staff about chest pain he was experiencing, and an ambulance was sent out to the hotel, but a private ambulance was already present at the scene. These health workers attempted to resuscitate Hawkins, but were unable to do so. The New York Post states Hawkins was also found to have a heart double the weight of an average man at his age, making him more susceptible to cardiovascular episodes and cardiac arrest.
Never afraid to drop a joke in order to make others laugh or feel better, Hawkins had a heart of gold, and brought life to any environment through his charisma and wit. Fellow bandmate, Dave Grohl has stated that he and Hawkins had a strong bond and they were greater than best friends; he felt as though they were brothers. Grohl even mentioned in his memoir that Hawkins was, "a man for whom I would take a bullet."
Hawkins gave 110% each night he performed, and could often be seen clad in a tank top and board shorts with a grin on his face, contributing to his laid-back and friendly demeanor.
Although Hawkins was an amazing drummer, he also was a tremendous singer with a wide vocal range. He often showcased this range by taking a break from the drums and singing Queen's "Somebody to Love" during Foo Fighters concerts.
He serves as an inspiration to not only drummers-but all young musicians as well. He never denied a fan from an autograph or photo, and gave everything to keep fans happy and loyal. Hawkins has a legacy that will never be forgotten by his supporters and loved ones across the world.
He is survived by his wife, Alison, his three children, his bandmates, family, and countless friends and fans.
Taylor Hawkins will continue to live through the music he created and the inspiration that he set forth for all.