Music of the Month: March
A look at our top songs from the month of March.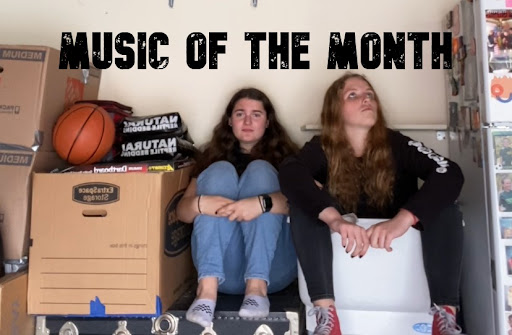 Happy March! This month has definitely had some twists and turns, with both glorious celebrations along with harrowing hardships. We are anticipating the release of Red Hot Chili Peppers' new album, "Unlimited Love" on April 1st. Although we faced insanity, we continued to listen to music. So, as always, here are our top picks of the month along with our honorable mentions.
Cali's Picks
"Dollar Bill" by Screaming Trees, "Sweet Oblivion"(1992): 

The third track of the essential grunge album, "Sweet Oblivion," "Dollar Bill," begins as a slow acoustic ballad that gradually transitions into a harder number. The entire song is driven by Mark Lanegan's hauntingly beautiful baritone voice that ranges from the soft verse notes to his distinguished yet raspy cries of the chorus. Following Gary Lee Conner's guitar solo, the song reaches a climax, as Lanegan's voice wails and echoes as it combines with the hard-hitting drums and guitar that carries on into the outro. The overall mood conveys the message of a heartfelt goodbye to somebody dear in one's life. This message truly serves as an appropriate ode and farewell to the late Lanegan who unexpectedly passed away last month.
"Song About An Angel" by Sunny Day Real Estate, "Diary"(1994): 

A single off of Sunny Day Real Estate's debut album, "Diary," that transitions between the slow and wistful verses and the powerful buildups of the pre-chorus and chorus.  Jeremy Enigk displays his vocal versatility throughout this track with the soothing verse melodies and the blissful yet raucous falsettos he sings over the nonchalant background chants that hook any listener to this dynamic number. Future Foo Fighters drummer, William Goldsmith, pounds the drums and contributes to the heavier side of the contrasting tune. Many see this song as an extremely influential and prominent piece in the formation of the midwest emo genre and is a staple for any fan of early emo or the underground sound of 90s Seattle.
"Poledo" by Dinosaur Jr., "You're Living All Over Me"(1987): 

As the penultimate track on Dinosaur Jr.'s second studio album, this song has an extremely dissonant and eerie feeling to it. Completely composed and performed by bassist Lou Barlow, "Poledo" is riddled with broken-up verses, abrupt breaks of static, random noises, and mind-warping bursts of classical-sounding pieces. The number begins and ends in indescribable noise that can be interpreted as a tortured violin orchestra playing through a tunnel. The first verse is carried on by Barlow's unorthodox acoustic guitar chords and self-discerning lyrics like, "I know I'm guilty/My stomach always hurts/Milking your attention for the little it is worth." The entire composition was recorded in the method of taking small snippets of pre-recorded tape sections and putting them all together, a practice Barlow was already familiar with. The auditory sensation this process created with this track is very unique and ebbs with originality, ultimately generating an arrangement like no other.
"Aurora" by Foo Fighters, "There Is Nothing Left to Lose"(1999):

Described as one of the greatest Foo Fighters songs by many, including lead vocalist and guitarist Dave Grohl. "Aurora" is a sentimental track that reminisces on old memories and brings a nostalgic feeling to the listener. This track reflects on the band's then short history as well as the good and bad memories associated with it, and how these events shape one's life and perspective. The smooth and delayed guitar, Taylor Hawkins' melodic drum playing, and Grohl's appeasing and soothing voice bring the entire composition to a euphoric peak. The song concludes with Grohl's repetition of the phrase, "On and on and on and on" followed by hard-hitting drums and a slight return of the intro riff. The tune in its entirety expresses how the band felt a new sense of freedom and ease after the first tumultuous years of their career, and the same feeling resonates with the listener as they experience the true bliss of this song.
"Meet Me in the Bathroom" by The Strokes, "Room On Fire"(2003): 

A mellow song from The Strokes' sophomore album, "Meet Me in the Bathroom" expresses the feeling of betrayal from someone impactful in one's life. The fulfilling guitar riffs perfectly harmonize with Julian Casablancas' relaxing voice to help convey the mood of the tune. The track has a basic, yet fitting structure filled with many guitar licks and pulsating drums courtesy of Fabrizio Moretti. The song consists of meaningful lyrics like, "You trained me not to love after you showed me what it was," to further communicate the mood of disloyalty and abandonment. 
Honorable Mentions:
"Old Age" by Nirvana, "With The Lights Out"(2004):

A previously unreleased outtake recorded during a "Nevermind" rehearsal, this track combines Kurt Cobain's melancholy voice and rhythmic guitar playing with Dave Grohl's apt yet strong drumming to create a track that instills a sense of serene feeling within.
"Steppin' Stone" by Minor Threat, "In My Eyes"(1981):

A rendition of the classic Monkees song, Minor Threat covers this song by putting their own punk rock twist on it. The short track begins in a garage-like, distortion-fueled haze until the midpoint of the song, but the heaviness and drilling-fast pace prevails throughout the entirety of the hard-hitting track.
"Love Burns" by Black Rebel Motorcycle Club, "B.R.M.C."(2001):

With its hypnotic intro riff, pounding drums, and catchy chorus, this track begins Black Rebel Motorcycle Club's debut album in a memorable way. The acoustic breakdowns and bits of feedback give the listener an enjoyable experience and brought character to the garage rock revival of the early 2000s.
---
Brianna's Picks
"Retrovertigo" by Mr. Bungle, "California" (1999):

One of Mr. Bungle's most beautiful songs, this song was written entirely by the band's bassist Trevor Dunn. This song will never outgrow or leave its message of classic trends making a comeback. The lyric "there's a vintage thirst returning," shows that even though the song was released in 1999, trends returning in fashion, music and entertainment from the past are still relevant in today's society. "Retrovertigo" addresses that nostalgia sugar-coats the desire of childhood and past memories which can be interpreted in the line, "a tribute to false memories." This song is a rollercoaster of dynamics; a mellow guitar intro, a berceuse interlude that bleeds into a hard-hitting final chorus and concludes the song with guitar feedback that resembles TV static (corresponding with the lyrics "staring into glassy eyes" and "every famine virtual"). Through this euphonic song, Dunn describes topics that are significant to our lives today; is nostalgia "just a phase" or a deceitful force against today's culture? "Is it fashion or disease?"  
"God Hates a Coward" by Tomahawk, "Tomahawk" (2001):

Tomahawk is a rock supergroup that was formed in 1999 by singer Mike Patton and guitarist Duane Denison. Patton was also the lead singer of Mr. Bungle who sang "Retrovertigo." "God Hates a Coward" is the fourth track on their self-titled album "Tomahawk."  The vocals throughout the song are raspy, grainy, and distorted along with its catchy riffs. 
"Stereo Sanctity" by Sonic Youth, "Sister" (1987): 

The fourth track off of Sonic Youth's fourth studio album, "Stereo Sanctity" begins with studio chatter, then is followed by the rest of this extremely catchy song. This track refers to the novel "Valis" in which the main character received a message from what he calls the Vast Active Living Intelligence System (V.A.L.I.S.). He sees Valis as a kind of life force that is communicated in an AI voice to him. Valis also inserts itself into the human brain and records from that perspective. This song presents the idea of a direct link between a holy spirit and the transmission of music. "Stereo Sanctity" ties the topics of music and religion to one another in an effortless way.  
"Bloodstains" by Agent Orange, "Living in Darkness" (1981): 

The lyrics of this song are very straightforward and don't need to be overanalyzed. "Bloodstains " is the seventh track off of Agent Orange's best selling album "Living in Darkness." This song asks society to "wake up from this stupid fantasy" that they have created. These illusions distract from what's really important; "cheap thrills." Overall, "Bloodstains" is extremely catchy with its hardcore punk riffs and vocals. 
"Where Did You Sleep Last Night" by Nirvana, "MTV Unplugged in New York" (1994):

There are no words that can describe the emotion that is represented through the vocals of Kurt Cobain; especially in the concluding song of their MTV unplugged performance. "Where Did You Sleep Last Night" is a rendition of American folk and blues singer, Lead Belly and his interpretation based on the original and alternate title, "In the Pines", which can date back to at least the 1870s. There is a melancholy feeling that is evoked when listening to Nirvana's performance of this song. The warm and smooth feeling of the cello complements Cobain's raspy voice in such an effective manner. There's one point in the song where Cobain's voice is secluded and accompanied by very minimal instrumentation, leaving his voice be the main focal point of that section; but in reality, it sets up for the final chorus which is laced with anguish and pain that has been surfacing throughout the duration of the song. This rendition always leaves me rendered speechless. It's one of those songs that is utterly flawless in its own way by it being unmistakably raw and real.  
Honorable Mentions:
"Poster Child" by Red Hot Chili Peppers, "Unlimited Love" (2022):

With their long-awaited and upcoming twelfth studio album "Unlimited Love," the second released single "Poster Child" consists of their iconic funky bass lines and riffs. This song contains many references and icons of the entertainment world from multiple decades such as musicians from varying genres, actors, and other pop-cultural references.   
"D-7" by Nirvana, "With the Lights Out" (2004):

A cover of the Wiper's song, Nirvana performed their rendition of "D-7" for BBC Radio 1 and appears on their EP "Hormoaning" (1992) which was only released in Australia and Japan during their tour.  
"Servitude" by Fishbone, "Give a Monkey a Brain and He'll Swear He's the Center of the Universe" (1993): 

The second track off of their fourth full-length album, this song has a really good riff and extremely catchy melody.