The Remembrance of Jenny Weast
An outlook of her impact at Oakmont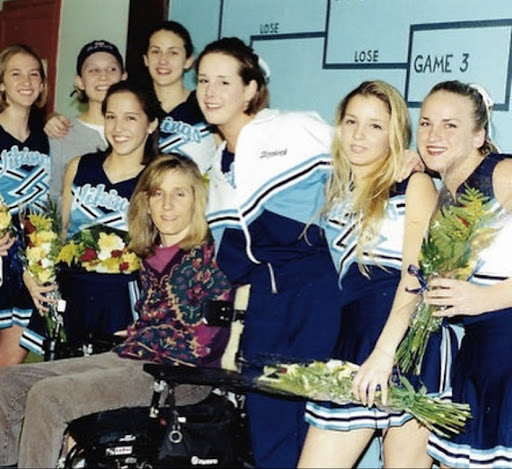 Over the past week, Oakmont has been mourning the loss of one of its incredible math teachers, Ms. Jenny Weast. She was someone who not only inspired those around her but also created a legacy that will never be forgotten.
On Saturday, March 6, 2022, staff and families were notified that after 35 years of teaching, Ms. Weast had passed the day prior on March 5, 2022. The news came as a shock and saddened those within the district and community as she inspired many.
In and outside the classroom, Weast aimed to create the best environment for all of her students, teaching them that they could do anything they set their minds to as long as they had the determination. "[She] was a great mentor and was always positive," junior Isa Moore said. 
When reflecting on Ms. Weast's impact since starting her career in 1987, she used her story to influence everyone around her, students and staff. Not a day goes by that people don't recognize how much Weast has overcome and her resilience.
Even while facing physical challenges, Ms. Weast ensured that she would defy all odds put upon her. She used her story to provide people with hope that they can achieve anything they put their minds to no matter the circumstances they faced in life.
"So many people beyond our school have shared stories and anecdotes about something she said or did for them that has stuck with them all their lives," Oakmont principal Dr. Isabel Govea said.
Not only was Ms. Jenny Weast an inspiration to her students and staff at Oakmont, she also touched the hearts of so many others. Weast had a habit of making her room feel comfortable, the walls covered in pictures of past students and those closest to her; she wanted those who entered it to feel like a safe space and show all of the connections she had made throughout the years.
"Ms. Weast used her story as inspiration to others to not give up when obstacles come your way," Senior Faith Bachman said. 
Weast was able to form connections with those around her as she had a love for life that no one could deny. She always seemed to have positive energy and aimed to pass that onto anyone she was around. Teaching was one of her many loves in life, but it is prevalent that she always wished the best success to everyone, hoping they would go on to have futures full of fulfillment and happiness like she had made for herself. 
"She was extraordinary and motivates me to eliminate fear from my life," Govea said. 
During her time at Oakmont and throughout her lifetime, Ms. Weast has done nothing but defy the odds and prove that anything is possible with the right determination. 
Condolences go out to all members of family and friends of Ms. Weast. She will be missed by so many and inspire all those who have known her or have the privilege to one day hear about her.