Skating Through Life
Daniel Fischel: charmer, hockey star, and driven young man.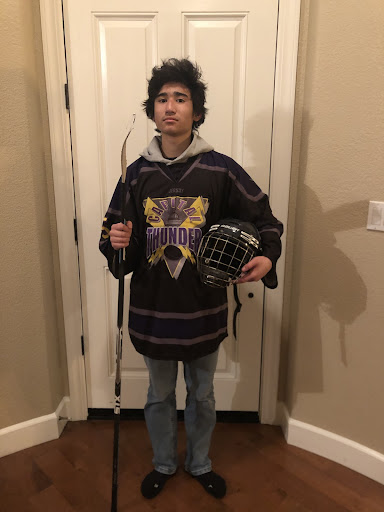 With a smile, fellow Oakmont junior Daniel Fischel weaves his way through the complex life of a high schooler; his passions fueling him to keep going.
But first and foremost, Fischel is a ladies man. 
"I get 99% of the girls," Fischel said. "They fall in love with me immediately."
His dear friend and Oakmont peer, junior Savana Hartley, can validate the fact that this is entirely not true.
"Oh, definitely not," Hartley said. "Daniel is one of those people that has this fake ego, where he thinks he's awesome… but in reality, not so much."
Fischel's computer science teacher, Alexander Wurden, finds Fischel fascinating, agreeing with the fact that he is a little troublesome.
"I am always admiring Daniel's persistence and his endless ability to work hard," Wurden said. "That being said, he does talk a little too much. It is endearing though."
But while he isn't charming everyone, he is training relentlessly for hockey, captain of his team in Roseville. 
"Hockey really changed me, I am so much more disciplined than I would have been if I did not play it," Fishel said. "It taught me to work together as a team and to love the challenges it provided."
His love of the game dates back to one wonderfully inspiring movie.
"I watch too many movies," Fischel said. "But one of them happened to be Mighty Ducks, a movie on hockey, and it just showed me the beauty of the game."  
A fellow teammate in hockey, Justin Phillips, values his leadership.
"It depends," Phillips said, laughing. "But no, he's a great hockey player and the best team leader because he puts in so much extra effort."
In a stark contrast from the violent, forceful game of hockey, he also adores playing the violin and listening to classical music.
"I appreciate the violin because it's a very pretty instrument, and it's so easy to express your emotion when playing it," Fischel said.
In the midst of all the fire from hockey and water of the violin, he hopes to stay true to himself and his values.
"I value resilience, appreciation for beauty, and charisma," Fischel said.
His friend, Oakmont junior Matthew Ellis-Bunz, admires his diligence. Sort of.
"Daniel is a cool dude,  he's very funny, and he works hard," Ellis-Bunz said. "Very hyper-active and a little annoying though."
However, life wasn't always glamorous. Fischel moved around constantly growing up.
"11 times," Fischel said. "It really sucked."
The persistent changes took a toll, yet it was a good reminder of the hostility of the world.
"It teaches you that people really don't care for new people," Fischel said. "They are only ever just content with who they already know, and don't want to give others a chance, or are just too scared."
He wants his world to change to something better, and he knows he needs to be ambitious.
"I'm not exactly sure, but I do know that I don't want to end where I started, in the suburbs," Fischel said.
No matter the struggle, he's willing to work hard.
"I won't let life stop me," Fischel said.