Flying Across the Country
An inside look at what it's like at airports right now.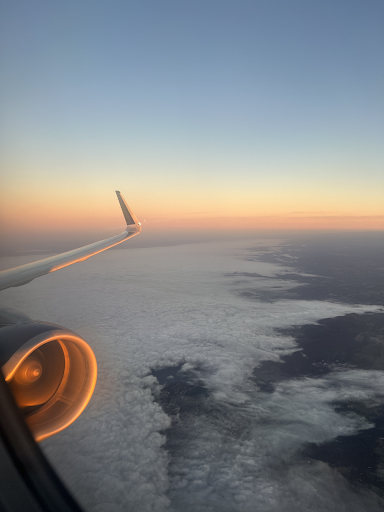 Busy, bustling, travelers pass by, always on the move and trying to get somewhere. Many things have changed due to Covid-19 and new regulations have been implemented.  This poses the question, just how different is air travel now? 
Over Thanksgiving break, my family and I flew to Orlando, FL. On Saturday, Nov. 20, we left for the airport at 3:30 a.m. for a flight that was scheduled to leave at 6:10 a.m. (PST). We had decided to leave our car at the airport for a week. The parking lot was crowded but not so busy that you couldn't find a spot to park.
The airport wasn't crowded at all, but I was surprised at how many people were there that early in the morning. Checking our bags was easy due to the fact that there was barely any line. We were flying with Delta in first class for the trip. 
Security can often be a pain and cause long lines at the airport. We did have TSA pre-check, so we skipped the line and got through security almost immediately. For those who didn't have a pre-check, the line seemed short at the time with maybe a few more people waiting.
Once we got through security, not many shops and places were open to eat yet, so we enjoyed the silence and quiet murmurs of people talking at our gate. 
We started boarding around 20 minutes before we were supposed to take off; however, we experienced about a half hour delay because many planes were trying to take off, so we were blocked from leaving the gate. 
On the flight and in all airports, you are required to wear a mask per federal regulations. There are frequent announcements inside the airport and on the pre-takeoff flight video to remind passengers of the mask mandate. Flight attendants will remind passengers if they aren't wearing their mask correctly. 
The airlines are strict about the mask regulations; you must wear it when you're sleeping, after you've taken a bite of food, and over your mouth and nose while you chew your food. 
The flight was enjoyable, and we were given a pastry box for breakfast. This is the part I was a little disappointed about. Many of the packaged food in there were not foods everyone likes, including banana salted chips, coconut cookies, and blueberry chia yogurt. 
The flight went very smoothly and we were able to quickly reach our next gate at the Minneapolis airport. The next leg from Minneapolis to Orlando was a little bit longer, but overall it was an enjoyable flight. 
We got a choice of lunch on that flight, and they offered a good selection of sandwiches and snacks this time. I ended up having a tomato, basil, and mozzarella cheese sandwich and potato chips.
We arrived ahead of our party traveling from Alaska, and unfortunately they were stuck on the tarmac for around 30 minutes, due to all the gates being full. We then had to wait even longer for them to receive their luggage, more than 25 minutes, which was unfortunate. 
Overall, our flights to Orlando were enjoyable, but unfortunately worsened on our returning legs. 
We had received a notification that our flight would be delayed by an hour the morning we were leaving. We were then scrambling to see if we would miss our connecting flight, which we would. 
We were trying frantically all morning to get a connecting flight from Atlanta to Sacramento in first class because a member in our party needed more leg space due to medical reasons. However, Delta was not letting us book a connecting flight that we needed, instead they just offered us refunds for our Atlanta to Sacramento flight, which would not work. Overall, it was a frustraiting and tiring process. 
We arrived at the airport at 11:15 a.m. when our flight had been pushed back even later to a 4:20 p.m. departure time, in hopes of getting an earlier flight to Atlanta to make our original connecting flight time. However, it did not work out. 
Our flight from Orlando to Georgia was enjoyable despite what was going on, and the plane was very spacious, given that this plane was meant for international flight and was the only available plane at the time to transport us. 
However, the enjoyable experience went further downhill from here. Our Atlanta to Sacramento flight took off around 8 p.m. and we weren't scheduled to arrive in Sacramento until close to 10:15 p.m. (PST).
This flight was much more crowded, and we ended up being placed in the Comfort plus section, with one member of our party being in the main cabin. This did not provide nearly as much space as we needed, and was quite uncomfortable. 
I was sandwiched between two people I didn't know, and my parents had to cram into 2 of the 3 filled seats behind me. The service wasn't nearly as nice on this flight either. 
We didn't have the option to buy food, so we had to eat beforehand, which didn't settle well with the amount of turbulence on the flight. We arrived in Sacramento around 10:10 p.m., and had to wait a long time for our luggage as well. 
We arrived at our house, which is about 30 minutes away from the airport, around 11:45 p.m., when we were originally intended to land at 6:45 p.m. and get home around 7:45 p.m. 
If you are flying right now, plan for anything. Understand you have to comply with the mask regulations and you should allow some time between connecting flights in case a delay does occur. 
If you are at the airport when many food places will not be available, bring snacks for the flight. Flying does feel different than pre-Covid with all the new regulations in place, but hopefully it will return to normal in the foreseeable future.