Ed Sheeran drops "Equal"
Reviewing Ed Sheeran's latest album, "Equal."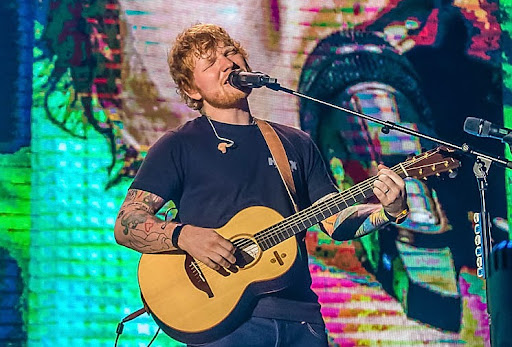 On Oct. 29, Ed Sheeran released his 5th album, "=," giving listeners a new and vivacious sound.
A renowned artist worldwide, Ed Sheeran has been nominated for 14 Grammys and won four. He has had an endless amount of hit songs, like "Shape of You," which is almost at three billion streams on Spotify.
Ed Sheeran opens the album with "Tide," a song with a heavy-strummed guitar progression. There are a couple suddenly slowed parts, creating a vivid contrast in the song, a good preview for the rest of the album.
The rest of the album continues to uphold the realistic disparity between songs. He follows with "Shiver," an upbeat song with provocative lyrics, quickly followed by "First Time," a slower song reclaiming the innocence of one's firsts.
The whole album describes different stages of love, describing deliberate goading in "Bad Habits," to saying goodbye in "Leave Your Life," to the ecstatic experience of being in love in "Collide." With "Love in Slow Motion," he speaks of slowing down love to actually feel it instead of being consumed in the quick reward that is so prominent in modern relationships.
Not only does he speak of romantic love, he also sings about family and friends. He curated an ode to lost loved ones in his slow song "Visiting Hours." Similarly, in "Sandman," he sings to his new child, a soft lullaby about a sweet childhood.
He ends the album with "Be Right Now," a quick tempo song that leads to a falling feeling in the chorus, bringing alive his lyrics that describe the feeling of stopping the speed of the world to appreciate life. Most of his songs follow a newfound upbeat tempo, a new type of pop from him. He has the newer electronic sound in the background, fading in and out with the beat, but he still stays true to his guitar.
One might have expected more slow songs because of previous hits such as "Perfect" and "Thinking Out Loud."; however, I personally appreciate the new sound, as it provides a wonderful, feel-good mood. As Ed Sheeran has always done, he covers the wonderful stages of love, letting the listener feel lost in it. A brilliant album, "=" deserves all the attention and more.