Comforting Animals for Classmates
A simple way one Oakmont student copes with stress and helps others to do the same.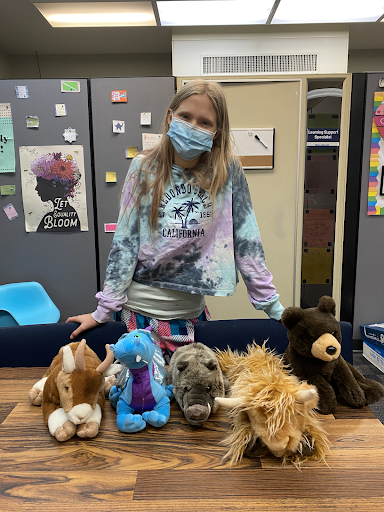 Starting last year, freshman Elena Wells created "Therapy Pets." These are weighted stuffed animals that relieve stress by aiding in both deep and light pressure therapy, a form of tactile therapy input. Similar to weighted blankets, they soothe you by calming your heart rate and breathing.
She brings them for other students and donates the animals and funds to nonprofit organizations.
"You just take them anywhere and everywhere with you," Wells said. 
Faced with her own struggles, Wells decided to create her own convenient solution, rooted in her love for animals.
"I have tics and anxiety but it's hard to get Amber, my dog, to become an ESA (emotional support animal)," Wells said. "The therapy pets serve the tasks that ESA or service animals do called deep/light pressure therapy."
Having something weighed and malleable to hold can create a sense of grounding, relax muscles, and alleviate tension. To provide this comfort, Wells simply takes stuffed animals and removes the stuffing, replacing it with rice. This practice doesn't require many materials, and can be helpful for people during stressful times. 
"I've talked with … some other friends of mine and they say they are beneficial," Wells said. "It is therapeutic [to make them myself]."
Making therapy pets has become a hobby for Wells. She has even decided to continue to make these stuffed animals for her friends, classmates, and organizations. She finds relief in her everyday life by having something to comfort her and comfort others.
"[I] have five in the Wellness Center for other kids," Wells said. "[I] sold some to a nonprofit organization called TROTR, an equine therapy place up in Woodland. And to another nonprofit organization called Stand Up Placer."
Wells sells these at fundraising events and has made 23 "realistic animals" for TROTR and eight for Standing Up Placer. Wells will continue to dedicate her efforts to helping herself and others. She is currently also trying to set up a website and to encourage others to support the community.
"Actually be supportive and try what people are offering," Wells said.
This is good advice for students as they can be more aware of the challenges others face and learn how they can help solve those problems. Millions of people struggle with their mental health and it's important to support them in any possible way.
On top of being a hobby, this service has helped Wells form a better bond with others.
"In my life I've had a hard time with people in general," Wells said. "So being capable of coming close with my brother and his friends is kind of fun."
Wells became closer to her brother when they both opened up to each other about problems happening in their lives. During their struggles, his friends united to help both of them. Her brother and his friends were always there for her when she needed support, and now Wells considers them all brothers.  
Many people deal with stress and anxiety, but there are a few ways to cope. To combat it, individuals can turn towards relaxation methods, people they trust, and in Well's case, weighted stuffed animals.
"There's ways to get around it with the right things in the right mindset and the right people," Wells said.