Winter Sports Preview: Back in Action
A look into how winter athletes are feeling about the upcoming season.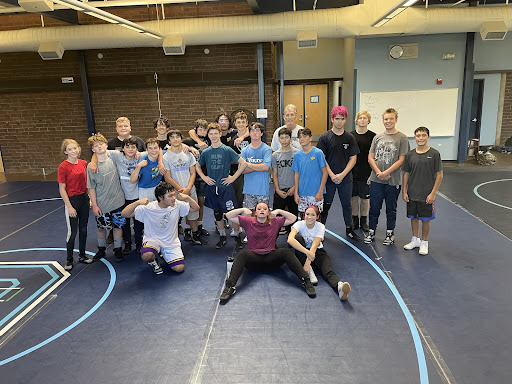 The weather's getting colder, Odin has begun using his fur coat, and Oakmont winter sport athletes are gearing up for the winter season. 
This year, all sports are returning to their normal schedules and full seasons after 19 months of uncertainty and shortened seasons. Winter athletes have been training all fall, whether it be club sports, conditioning, or going to the gym, and they are ready to get back out there. 
Girls' soccer is ready to be back at it after last year's partial season.
Two of last year's varsity girls soccer captains, seniors Amelia Bella and Sarah McHugh, shared just how excited they are for this season.
McHugh is excited to play with last year's JV girls who will be transitioning to varsity this year.
"I'm super excited to play with them and mesh all our skills together," McHugh said.
Teamwork is very important in soccer, so having a full season to work together is going to be great for the two teams. 
"I'm looking forward to being able to spend time with my teammates again," Bella said. "We're kinda like a family so it'll be fun."
Bella shared how passionate she is about the game and her enthusiasm to get back out on the field. This season is also very special for both McHugh and Bella because they are both seniors.
McHugh is especially excited that this season is going to be focused on high school soccer instead of club. 
"Last season was difficult because girls had club and high school soccer at the same time," McHugh said. "This season's gonna be better because all the girls are going to be back [and] prepared for high school."
Considering they didn't even know there was going to be a season last year, everyone is going to be more prepared. McHugh is confident that the team will go further this year.
Bella is happy that there will be a better group dynamic this year. Many of the varsity players have been together for 3 or 4 years, so the team has chemistry. 
"It's going to be more special to me because [it's] my senior year," Bella said. "I think we have a better group dynamic. So I think it's going to be better in that sense."
Boys' Soccer looks to win league this season.
Two seniors, Aidan Cernicek and Ethan Montgomery are excited to be playing on the soccer field in their last year of high school. 
"I'm really looking forward to practicing with my teammates who are also my friends and winning some games with them," Montgomery said. 
Cernicek looks forward to helping the team win the league and having fun. This season will be different for him as well. 
"[It's going to be] different from past seasons because we have a lot of seniors this year, and we haven't had many seniors on the team for a long time," Cernciek said. 
Girls' Basketball is excited for the upcoming season.
This year, Girls' basketball has new coaching staff and a younger set of girls, making the season more new and exciting. 
For junior Maycee Needles, this season will be her first season back since freshman year. 
"[I'm looking forward to] having fun because there was no season last year," Needles said. "I'm looking forward to playing again."
This season will be special to her because one of her close friends is the only senior on the team. 
"We're just trying to make it more special," Needles said. 
This season will also be different because not a lot of seniors and juniors are going to be on the team. This presents the opportunity for Needles and the few other upperclassmen to step up. 
"It's gonna be different because we have a younger group of basketball players so it's going to be more of a learning experience for them and a teaching experience for me," Needles said. 
She's looking forward to showing them the ropes of higher level basketball. While there are not a ton of girls trying out, this year's group is determined to make it one of the best years yet for the team. 
Boys Basketball is ready for a real season.
The boys basketball season is right around the corner. Two of last season's players shared how much they are looking forward to it. 
Junior Derek Lamb is excited because he believes they will have an excellent team this season and can make it to the playoffs. Last year wasn't a complete season so this one will be different. 
"We should actually get our tournament games with preseason," Lamb said. "I think it'll be more like a real season and [we'll get] more practice time."
For senior Greg Dimapillis, this season is bittersweet as it's his final season at Oakmont. He's looking forward to many things, including winning. 
"I look forward to getting to play with my new teammates," Dimapillis said. "[I'm] looking forward to getting into playoffs [and] winning for section one."
Dimapillis is also grateful for the new players joining the team this season and the time they have to build chemistry. 
Last year's team was also close, so they have a long standing bond that helps them on the court. 
"We [all] know each other," Dimapillis said. "We're very close as friends so we can bring that energy to the court."
It seems like this year they are looking to bring home many wins for the Vikings!
Wrestlers are excited to win this season
This year, wrestlers are excited to be out on the mat again for a full season. 
Junior Tanner Stone shared that he's excited to have new freshmen on the team because it will impact the team for the next 4 years, even after he's left.  This year is going to be a big step up from sophomore year. 
"Junior and senior years are the most important, they're when you progress," Stone said. "This is my year to shine. [To] place in state [and] nationals."
For freshmen, sophomores, and juniors, they still have time to find their spot on the team and grow, but for seniors like Danny Myles, it's their last year with the team. 
"[I'm looking forward to] being with the team," Myles said. "[It's] my senior year, I have a lot to live up to."
Final wrap up
With sports back in full swing, Oakmont's winter sports athletes couldn't be more excited to be playing the game they love. Of course, for this year's seniors, the winter season is  a bittersweet ending to their high school career. 
If you see any of the athletes around campus, be sure to wish them good luck. Go Vikes!