Competing at the top
National Gymnastics Competition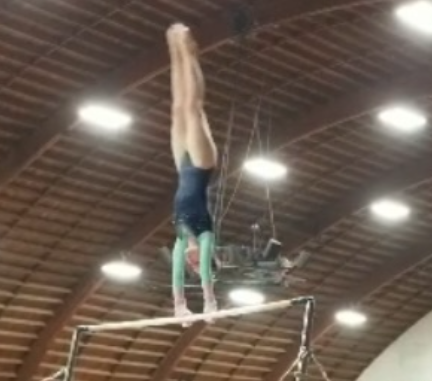 Sarah Lutrel, an Oakmont High School Junior, has been doing gymnastics since she was little. A few years ago, she began competing, and now, she has an opportunity to compete at Nationals.
"I have been doing gymnastics since I was five, so for 11 years," Lutrel said. "I have been competing for eight years, and I knew I wanted to compete ever since I started doing gymnastics."
Lutrel's passion for gymnastics has encouraged her to keep competing for special events and opportunities like Nationals. When she was little, she had a goal in mind: she wanted to compete. That pushed her to train to the level she is at now.
"It [has] been at least three years [for me to make it to Nationals]," Lutrel said. "I could have made it… but the last two years haven't gone well."
Lutrel has been training frequently to be able to make it to Nationals in Daytona Beach, Florida. She had a few setbacks, but that did not lower her confidence or make her want to quit the long process.
"I had to qualify for state, then at state, qualify for regionals, and at regionals I had to qualify for nationals," Lutrel said.
Lutrel had to go to different level competitions throughout the years to make it to Nationals. She got selected to go to Nationals out of a group of girls at her age level.
"At state, I had to compete against all the people in our state that [are] my age, then once [I made] it to regionals, I [competed against] those same people that made it and only seven of us got to go to Nationals," Lutrel said. "I placed 4th out of 20 people and made it to Nationals."
All of the hard work Lutrel has put into gymnastics has pushed her to become one of the best gymnasts and she was given the opportunity to be able to compete at a high level competition.