WrestleMania XXXVII Review
WWE's biggest event of the year: how did it stack up (from a longtime wrestling fan)?
It's almost humorous how the first WWE event with a crowd in a year was delayed an hour because of rain in Tampa, Florida. WrestleMania is a wrestling fan's Super Bowl. Like last year, WWE's WrestleMania was compiled into two nights instead of just one. Both nights were full of amazing matches and excellent talent. This highlights the best 3 of each night and will contain the winners. So, spoiler alert!
Night 1 of WrestleMania was not disappointing in the slightest. It just kept getting better and better. Night 2 had its ups and downs, but ultimately wasn't bad. 
NIGHT 1 BEST MATCHES
Seth Rollins vs Cesaro
This match was amazing. It was a great display of power and athleticism by both Rollins and Cesaro and was full of many close calls and changes of energy. Rollins is an amazing athlete and further proved himself as a threat and even shocked the fans a couple times. He pulled out many different moves hidden deep within his arsenal and moveset. One of those moves included a 360 degree corkscrew off of the top rope. We all thought that would have been enough to neutralize the Swiss Cyborg, but we underestimated Cesaro's resiliency. No matter what was thrown at either men, they both continued to get back up and keep fighting. Cesaro really proved himself and proved he deserves a strong push in the company. He is incredibly strong and an amazing athlete. After both men gave their all, Cesaro claimed victory in his first WrestleMania singles match after giving the modern day "Mr. WrestleMania" 23 continuous swings with his signature move "The Giant Swing." Great match, great finish. 9/10.
Miz and Morrison vs Bad Bunny and Damian Priest
At first I was skeptical of this match because it's hard to take a celebrity/musician seriously when they're brought into the wrestling scene. But Bad Bunny really proved himself here and I will not be underestimating him again. Bad Bunny is a well decorated Latin artist with many awards. He was brought into WWE because of his song "Booker T," which was named after a WWE Hall of Famer. Bad Bunny is a lifelong fan of the WWE, and he was living a dream with this match. He trained everyday for his debut match at WrestleMania. All throughout this tag team match, the energy was always high. Everyone was having fun (especially Bad Bunny) and you could tell. The Latin rapper really shocked us all with what he pulled out of his arsenal. It was amazing, honestly. From start to finish, bell to bell, entrance to ending, this was entertaining to watch. In the end, Damian Priest and Bad Bunny were the ones victorious after the musician did a top rope splash onto the 2 time Grand Slam Champ, The Miz. I would watch this match again. 9/10.
Sasha Banks (c) vs Bianca Belair for the Smackdown Women's Championship 
Two black women main eventing the biggest wrestling event of the year for the first time. History was made that night. Emotions were high and everyone was pumped and ready to watch these two outstanding athletes wrestle for the SmackDown Women's title Sasha Banks possessed. This match was amazing and kept me on the edge of my seat, literally. It never had any dull moments, both continued to get up and not back down. It was truly remarkable what these two superstars did. Belair showed off incredible strength and agility and both women gave it their all. They were quick on their feet, always energetic, and very entertaining to watch. This match had us all screaming at the end and always anticipating what was to come. There were many close calls. You really didn't know who was going to win. This was a historic and emotional main event. After amazing displays of talent from both parties, Bianca whipped Sasha with her hair, cutting her open, and hit a suplex on Banks. This got Belair her first WrestleMania victory, on her first WrestleMania match, and earned her her first championship outside of NXT. Truly remarkable. 10/10.
NIGHT 2 BEST MATCHES 
Kevin Owens vs Sami Zayn 
This match was probably the one I was waiting for the most (minus the main event). Sami Zayn and Kevin Owens never disappoint when they're up against each other, and this match was no different. Originally, I was a little hesitant to watch this match because of the involvement of social media influencer Logan Paul, but the wrestling betweenOwens and Zayn made up for it, and I was glad to have watched it. The chemistry they have in the ring is impeccable and they are both so talented. They know each other so well, having known each other since 2002. Owens was a powerhouse and dominated the match, showing off his power; but Sami wasn't dominated for long. He fought back, and fought back hard. Both men did great in terms of strength, strategy, and agility and they pulled off a great WrestleMania-worthy match. There were lots of close calls and 2-counts and amazing maneuvers that made you want to turn away. To end this great match, Kevin Owens hit Sami Zayn with a stunner and got the pinfall and the win, later hitting Logan Paul with the same move. 9/10
Rhea Ripley vs Asuka (C) for the Raw Women's Championship
This one was also highly anticipated for me. Both wrestlers are incredible and very talented. In this match, Asuka and Ripley showed impressive power and strategy and were both dominant and shined in their own ways. Rhea was amazing and demonstrated great strength, and Asuka fought and defended like a true champion. The Empress (Asuka) had great offence and pure determination to keep her title. The energy was always high and the audience was always left wondering what was going to happen next. Both women really gave their best in this WrestleMania title match. After giving it her all and hitting the previous champ with her finisher: The Riptide, "The Nightmare," Rhea Ripley was the winner and is now the new Raw Women's champion. 8/10 
Roman Reigns (C) vs Edge vs Daniel Bryan for the Universal Championship
The main event of Night 2 held a no disqualification stipulation, meaning anything is allowed to happen. This was made obvious with the constant interference and involvement from Reigns' right hand man: Jey Uso. Luckily, he was taken out by the Rated-R-Superstar Edge, for what we thought to be the rest of the match. The challengers were the ones that truly shined in this main event. Of course, Roman had his moments. For example, hitting a double spear with Edge on each other. However, Daniel and the Ultimate Opportunist were the main men. All three men demonstrated great power and Bryan proved to everyone that he deserved to be in that match. They all gave their best and put their bodies on the line for the championship. There were a lot of "wow" moments in this match, including Edge and Bryan's headbutting contest while both simultaneously holding Roman Reigns in Daniel's signature submission hold the "yes lock," and seeing vintage Edge bring out the conchairto onto the other challenger. He was going to give one to Roman as well, but he was interrupted by Jey Uso. A disappointing finish to an amazing match, as we got the ending no one wanted. Roman hit a conchairto onto Edge, and got the win by pinfall, keeping his title. 9/10
About the Writer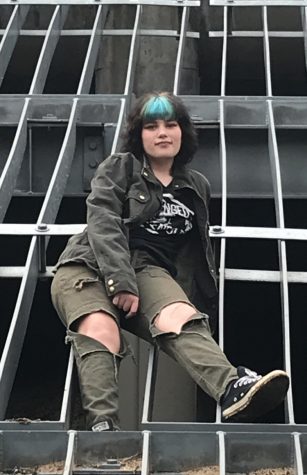 Isabel Henderson, Staff Writer
This is Isabel's first semester in journalism. When they're not in class they are playing Genshin Impact and watching pro wrestling. Some of Isabel's hobbies...