The Rise of Twitch
How the Twitch platform is beating records with their streamers.
Twitch is a live streaming service operated by Twitch Interactive, a subsidiary of Amazon. The site first launched in June 2011 as a spin-off of the streaming platform Justin.tv before the company was re-branded as Twitch Interactive to represent the shift in focus, and Justin.tv was shut down in August 2014. 
Twitch focuses on gaming, music broadcasts, creative content, and more recently, "just talking" streams where streamers interact with their viewers and talk about recent events. 
Broadcasters on Twitch often host streams promoting and raising money towards charity; as of 2017, Twitch has raised over $75 million in donations for charitable causes. The biggest charity event of Twitch is Zevent, a project created by Adrien Nougaret and Alexandre Douchary, with more than $6.9 million raised for Amnesty International in October 2020. Streamer RanbooLive did a charity steam for the Trevor project, an LGBT mental health project, taking all the money made from subscriptions and donations and putting it towards the charity. 
After the steam ended, he posted on Twitter, saying "We raised over $100,000 for the Trevor Project, I became one of only 3 people to ever hit 100k subs on Twitch, We broke the record (I think) for most subs in a single day (44.5k)…" This stream still holds those records.
Many long-time YouTubers are now streaming on Twitch as well, finding the livestreaming experience new and refreshing compared to the daily use of YouTube. Not all streamers on the site came from YouTube, the majority of channels are brand new and exclusively streaming using Twitch, kicking off their own careers in gaming and entertainment. With so many starting out at once, it can be difficult to gain traction, or to stand out amongst the crowd. 
"It was scary, and starting out streaming was definitely boring when you get little to no viewers; but cherishing each viewer who does take the time to watch your stream is amazing, just seeing 1-5 people is a great feeling," Minecraft streamer Ajacent1 said. "To any young streamers starting out, I'm a young streamer myself, but keep pushing. You got this. Just try and be interactive and give genuine reactions, and things will turn out great." 
Much of the current popularity is due to the longtime popular game Minecraft, and the uprise in storytelling or acting done through it. A popular example of this is the Dream SMP, hosted by record-holding speedrunner Dream himself. There are millions of people following the SMP, the majority watching through streamers Georgenotfound, Tommyinnit, RanbooLive, QuackityHQ, Nihachu, Ph1lzA, and many others. The SMP can also be followed through YouTube livestreams on Technoblade's channel as well as being recapped on the Blueberry TV YouTube channel.
About the Writer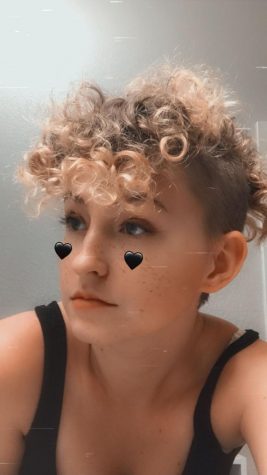 Sam Jourdan, Staff Writer
Sam has been in journalism for two semesters, otherwise spending most of her free time reading or hanging out with friends. She likes writing about the...