Who Struck Gold at the Golden Globes?
Nominees and Winners of the 78th Annual Golden Globes.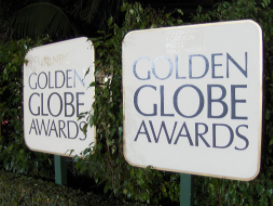 The 78th Golden Globes were held virtually on February 28, 2021. They were hosted by comedians Amy Poehler and Tina Fey. 
The nominees stayed in their homes while dressed elegantly for the award show. 
"I'm holding my son's hand now. I wouldn't be able to do that if I was on the carpet," nominee Amanda Seyfried said.  
There were many stories this past year that audiences across the world could enjoy. 
As Jane Fonda accepted her Cecil B. DeMille award she stated that "stories have a way that can change our hearts and help us see each other in a new light." 
"Nomadland" won many awards including Best Drama Film and Best Director. This film features Fern(played by Frances McDormand) who travels through the American west in a van. Chloé Zhao became the first Asian woman to receive the award of best director for this film. During her acceptance speech she discussed the importance of compassion and how films can bring people together.  
"This is why I fell in love with making movies, because it gave us a chance to laugh and cry together," Zhao said. 
In the category of Best Actress in a TV Series Emma Corin won for her performance as Princess Diana in "The Crown'' a television series about the life of the English royal family. Other nominees included Sarah Paulson (Ratched), Laura Linney (Ozark), Olivia Colman (The Crown) and Jodie Comer (Killing Eve). 
In the category of Best Actress in a motion picture- Musical or Comedy; Rosamund Pike took home a win for her performance in "I Care a Lot" about a woman who assumes legal guardianship over the elderly as she defrauds them. Her fellow nominees included Anya Taylor Joy (Emma), Maria Bakalova (Borat), Kate Hudson (Music), and Michelle Pfeiffer (French Exit). 
In the category of Best Actor in a Motion Picture the late Chadwick Boseman received a Golden Globe for "Ma Rainey's Black Bottom" about an influential blues singer of the 1920's. His fellow nominees included Riz Ahmed (Sound of Metal), Gary Oldman (Mank), Anthony Hopkins (The Father), and Tahar Rahim (The Mauritanian). 
In the category of Best Actress in a limited series Anya Taylor Joy won for "Queen's Gambit" a Netflix series about a chess genius. Her fellow nominees included: Nicole Kidman (The Undoing), Shira Haas (Unorthodox). Cate Blanchett (Mrs. America), and Daisy Edgar Jones (Normal People).
"Soul" won a globe in the Category of Best Animated Motion Picture. This Pixar movie stars Jamie Foxx and Tina Fey and is about a jazz piano player who helps a soul find their purpose as he discovers what it means to truly live.  
The people who were in control of these awards were the Hollywood Foreign Press Association (HFPA). This is a group of 87 journalists across the world. Controversy has sparked over the diversity of the HFPA. This association has failed to include any black members. Many celebrities have criticized this fault. The lack of inclusivity within HFPA members further demonstrates the lack of diversity in Hollywood. 
This year's Golden Globes were certainly memorable and very different compared to other years.