"They Both Die at the End" Revamped
Adam Silvera's story gets a visual adaptation thanks to HBO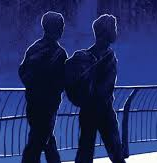 HBO is developing a half-hour series based on Adam Silvera's book "They Both Die at the End" directed by J.J. Abrams and "The Other Two" co-creator Chris Kelly. 
Bad Robot's co-executive producer Rachel Rusch will produce alongside Kelly, Abrams and Ben Stephenson. The story is to be produced as a comedic miniseries, but will still hold its original emotional weight at the core of the show. A release date has not yet been announced.
"They Both Die at the End" is set in the near-future where it's normal to receive a standardized phone call notifying you at the start of your last day alive. It follows a diverse group of people as they live their unexpected final hours, all connected through the two teenage boys at the heart of the novel. The show will be following different points of view, since the story is pulled together by alternate storylines like a really unfortunate puzzle. 
 Many fans of the book worry that the show will flop, as many past adaptations of books can't quite live up to the previous success. The show being produced by J.J. Abrams has only intensified this worry, as many of his Star Wars productions are inconsistent in review. 
Another risk is the LGBT theme in the book, and how rare it is for a studio production to accurately portray the relationships carrying the story. Silvera has many similar stories to this one, and has a prominent reputation for being able to write healthy depictions of LGBT characters while keeping an interesting plot. 
However, with all this aside, there is a large lesson of this particular story that some risks are worth taking, and the majority have decided to give the adaptation a try.